Newly Named IDOL Director to Highlight CISCO Annual Luncheon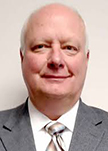 Michael Kleinik, new Director of the Illinois Department of Labor, will be the keynote speaker at CISCO's Annual Luncheon on Friday, April 26, at Maggiano's in Schaumburg. The Luncheon begins at 11:00 a.m. with registration and the program begins at Noon.
Governor Pritzker recently appointed Kleinik to the position. His previous experience at the IDOL as the Manager of the Department's Conciliation and Mediation Division was one of the overriding factors in the choice.
To attend the event, click here, for the registration form.
ABOUT THE LUNCHEON
Each year, near the end of April or early May, CISCO holds an Annual Luncheon. The meeting is highlighted by a keynote speaker whose topic is relevant to the union construction industry, and Scholarship Awards are presented to four top high school seniors and two top continuing education students. Below is a photo from this year's event.