CISCO's Annual Luncheon – POSTPONED – Rescheduled Date Pending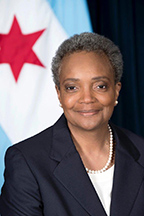 Due to the Coronavirus and newly issued statewide and City of Chicago guidelines announced by both Governor JB Pritzker and Mayor Lori Lightfoot, CISCO's Annual Luncheon, which was set for April 24th; will be postponed. A new date for the event has not been set, but CISCO will make that announcement based on state and City guidelines and CDC recommendations.
The state of Illinois and City of Chicago issued the following statewide guidance:
COMMUNITY EVENTS
Mandating all large-scale events exceeding 1,000 individuals be canceled for the next 30 days.
Encouraging that community events of 250 people or more should be canceled or postponed until May 1. This includes personal and social events. Residents should use good judgment about canceling events in their own communities.
For events less than 250 people, residents should closely consider who is likely to attend the event and, if it includes vulnerable populations, strongly consider canceling.
All major sporting events with large spectator crowds should be canceled until May 1. This should include school and college events as well as major league sporting events. The governor has spoken with the owners of all the major sports teams in Illinois and they are in full support of these measures to protect the health of their fans and will cancel all games until May 1.
Those who have registered, bought tickets or purchased a sponsorship will maintain their status for the rescheduled event. The luncheon, planned to feature Chicago Mayor Lori Lightfoot, will be held at the same venue – IBEW Local #134 Hall, 2722 S. Martin Luther King Drive in Chicago. CISCO will provide updates as details emerge. For more information, contact CISCO at (630) 472-9411.
ABOUT THE LUNCHEON
Each year, near the end of April or early May, CISCO holds an Annual Luncheon. The meeting is highlighted by a keynote speaker whose topic is relevant to the union construction industry, and Scholarship Awards are presented to four top high school seniors and two top continuing education students. Below is a photo from this year's event.