Union Construction Industry Lauded During 2017 CISCO Annual Meeting
The benefits, excellence in quality and community impact of union construction was on full display during CISCO's recently completed Annual Meeting.  Not only were the top construction projects of 2016 recognized, but three individuals who demonstrated a positive impact on the union construction industry were honored as well.
James Ongtengco, Principal of Fenton High School, was recognized as Educator of the Year; The Village of McCook and its Mayor Jeff Tobolski were hailed as Public Body of the Year; and Chairman/CEO of Clayco, Inc. Robert Clark was honored as Labor Advocate of the Year.
More than 250 CISCO members and people connected to the award winners attended the 2-hour event at Maggiano's Little Italy in Schaumburg.
In addition, two retiring members were recognized:  Mark Maher, former Board President and 18-year board member was saluted, as well as Don Walker, Apprenticeship Coordinator for the Bricklayers after a distinguished 45-year career.  For more pictures of the event, click here.
Pictured below (from top down) are: Clayco Senior VP Sandra Marks accepting award on behalf of Bob Clark; CISCO Executive Director Dan Allen addresses the audience; the University of Chicago Medicine Project team poses after being announced as the Suburban category choice; and James Ongtengco greets Dan Allen upon being introduced.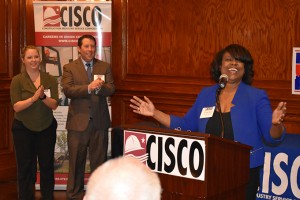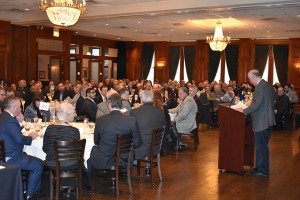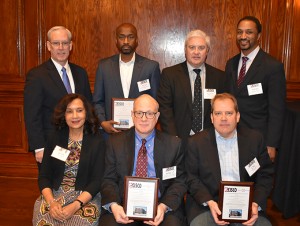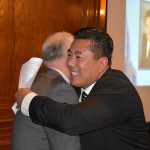 Each year, near the end of January, CISCO holds an Annual Meeting to elect or retain board members, board officers and approve its annual budget. The meeting is highlighted by a keynote speaker, and its Pride in Construction Awards are presented to winners in select construction categories, as well as to individuals who have demonstrated exemplary leadership in the areas of education, labor conciliation and local government. More than 200 guests regularly attend the breakfast meeting.