CISCO's Legislative Committee
is made up of over 40 representatives from Labor and Management and meets throughout the year to discuss legislation of interest and work toward a consensus opinion and unified legislative action on important issues. CISCO only takes an official position on an issue when there is a consensus among its members.
At its first meeting in 2016, CISCO's Legislative Committee discussed several bills of interest, including the need for a new Capital Bill:
Capital Bill – A new capital spending program
HB 2450 – Amendment to Mechanics Lien Act
HB 4670 – Prompt Payment Act
SB 2789 – Unbalanced Budget Response Act
SB 2964 – Amends Prevailing Wage Act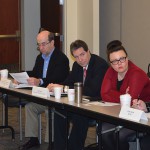 To view minutes from the March 21, 2016 meeting, click here.
Our next meeting is scheduled for Monday, May 16, 2016, beginning at 7:30 a.m.
Location: Construction Industry Service Corporation Office
999 McClintock Drive, Suite 100
Burr Ridge, IL 60527
For information on joining CISCO's Legislative Committee or for more info on any of the legislation listed, call CISCO at (630) 472-9411.