CISCO Begins To Accept Applications for Scholarship Award Program – Deadline is February 21, 2020

CISCO is accepting applications for its 2020 Scholarship Program. The three different categories enable a wider range of students of both union building trade members and union contractor employees to apply.
CISCO offers (3), four-year scholarships to high school seniors; (2), two-year awards for seniors planning on attending a community college; and (2), two-year continuing education awards to union members or contractor employees.
"The education of our future generations needs to be priority one," said CISCO Executive Director Dan Allen. "Each year we receive entries from increasingly talented students. This is a testament to our construction industry parents and families who have instilled a strong work ethic and character in their children."
The application forms can be downloaded from the following links: 4-Year Scholarship; 2-Year Community College Scholarship; 2-Year Continuing Education Scholarship. All applications and accompanying documents must be postmarked by February 21, 2020. For more information, contact CISCO at 630.472.9411.

Last year's (2018-19) Winners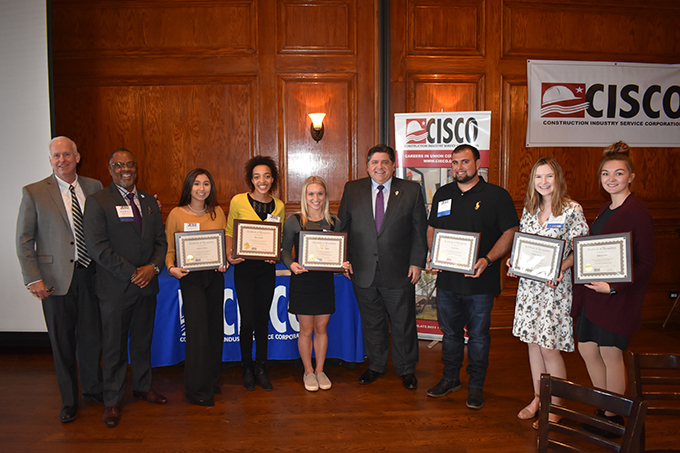 From left: Dan Allen, CISCO Executive Director, Maurice King, CISCO Board President, Lourdes Alvarez, Rhea Rashad, Emilee Klemm, Governor JB Pritzker, Joe Perri, Kaitlyn Moore and Andrea Feary. (Not pictured, Casey Woods.)
Four-year scholarship winners:
1) Kaitlyn Moore – Grayslake North HS – Her father is a member of IBEW Local 134
2) Emilee Klemm – St. Charles North HS – Her father is a member of Laborers' Local 68
3) Lourdes Alvarez – York HS – Her father is a member of Laborers' Local 582
Two-year Community College scholarship winners:
4) Casey Woods – Marian Catholic HS – Her father is a member of Carpenters Local 54, employed by F.H. Paschen.
5) Andrea Feary – Milledgeville HS – Her father is a member of Roofers & Waterproofers Local 11, employed by Sterling Commercial Roofing.
Two-year Continuing Education scholarship winners:
6) Rhea Rashad – Currently attending Rowan University; Construction Management major. Rhea is employed with The Levy Co. in Northbrook.
7) Joseph Perri – Currently enrolled at the College of DuPage; Construction Management major. Joe is employed by the Village of Roselle Public Works, member of Operating Engineers Local 150.