CISCO Announces 2019 Scholarship Winners

The winners of CISCO's 2019 Scholarship Program were recently chosen by CISCO's Board of Directors, and will be formally recognized and honored during CISCO's Annual Luncheon on Friday, April 26, 2019.
An independent review of the 75 entries was conducted and the winners were certified and contacted. Eligible students were the sons and daughters of either building trade union members or union contractor employees. A total of seven (7) winners were chosen: Three in the 4-year category, two in the 2-year community college category, and two in the continuing education category (also two-year scholarships). To read the press release, click here.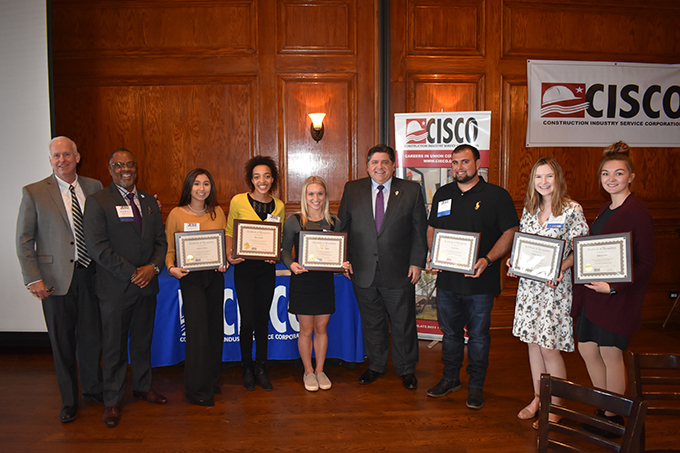 From left: Dan Allen, CISCO Executive Director, Maurice King, CISCO Board President, Lourdes Alvarez, Rhea Rashad, Emilee Klemm, Governor JB Pritzker, Joe Perri, Kaitlyn Moore and Andrea Feary. (Not pictured, Casey Woods.)
Four-year scholarship winners:
1) Kaitlyn Moore – Grayslake North HS – Her father is a member of IBEW Local 134
2) Emilee Klemm – St. Charles North HS – Her father is a member of Laborers' Local 68
3) Lourdes Alvarez – York HS – Her father is a member of Laborers' Local 582
Two-year Community College scholarship winners:
4) Casey Woods – Marian Catholic HS – Her father is a member of Carpenters Local 54, employed by F.H. Paschen.
5) Andrea Feary – Milledgeville HS – Her father is a member of Roofers & Waterproofers Local 11, employed by Sterling Commercial Roofing.
Two-year Continuing Education scholarship winners:
6) Rhea Rashad – Currently attending Rowan University; Construction Management major. Rhea is employed with The Levy Co. in Northbrook.
7) Joseph Perri – Currently enrolled at the College of DuPage; Construction Management major. Joe is employed by the Village of Roselle Public Works, member of Operating Engineers Local 150.