CISCO Launches 2018 Scholarship Program – Application Deadline – February 23, 2018

The Construction Industry Service Corporation (CISCO) is now accepting applications for its 2018 Scholarship Program. The three different program categories enable a wider range of students of both building trade union members and union contractor employees to apply.
CISCO now offers (3), four-year scholarships ($2,000/year) to high school seniors; (2), two-year awards ($1,000/year) for seniors planning to attend community college; and (2), two-year continuing education awards ($1,000/year) to union members or contractor employees.
All applications and accompanying documents must be postmarked by February 23, 2018 to be eligible for consideration. Winners will be notified in mid-March and awards will be presented at CISCO's Annual Luncheon in April, 2017. For judging criteria, application information, and eligibility requirements, please refer to the application forms.
To download the applications, click 4-year scholarship, 2-year scholarship, OR, Continuing Education.  For more information about the Program, click here, or call CISCO at 630-472-9411.
Scholarship Winners Recognized During Luncheon
The winners of CISCO's 2017 Scholarship Program were formally recognized and honored during CISCO's Annual Luncheon on April 21, 2017.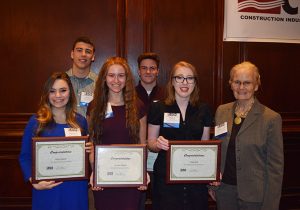 Pictured with CISCO Board President Loretta Molter are from left: Kiana Gleason, James Boldt, Camille Paddock, James Shanahan and Paige Thiel.
Four-year scholarship winners:
1) Camille Paddock– Huntley High School – Camille's father is a member of Operating Engineers Local 150;
2) James Shanahan– Lyons Township High School – James' father is affiliated with Carpenters Local 1; and
3) Paige Thiel– Prospect High School – Paige's mother is affiliated with G.W. Thiel, Inc.
Two-year scholarship winners:
1) Kiana Gleason– Willowbrook High School – Kiana's father is a member of BAC Local 21 Tilesetters & Finishers; and
2) James Boldt– Prospect High School – James' father is a member of the Laborers' Local 4.
Congratulations to this year's winners!