Registration is Open for Nov. 1 DuPage County Trade Apprenticeship Expo
Oct. 13, 2023
3:30 – 6:30 p.m.
Wednesday, Nov. 1
IBEW Local 701
28600 Bella Vista Pkwy., Warrenville
Register HERE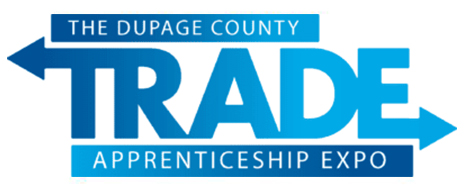 WARREVILLE – If constructing buildings, running electrical wiring and painting water towers is something you'd like to know more about, attend the Nov. 1, 2023, DuPage County Trade Apprenticeship Expo. This event features interactive, hands-on demonstrations by the county's construction building trade organizations, as well as opportunities to meet with instructors. Learn about trade apprenticeship programs – which is the college for construction building trades.
Last year's event brought in almost 400 attendees and we expect more this year! Watch our Expo Video!
If you are a DuPage County educator and would like your high school to be contacted directly for participation, please contact PowerForward DuPage at 630-791-2660.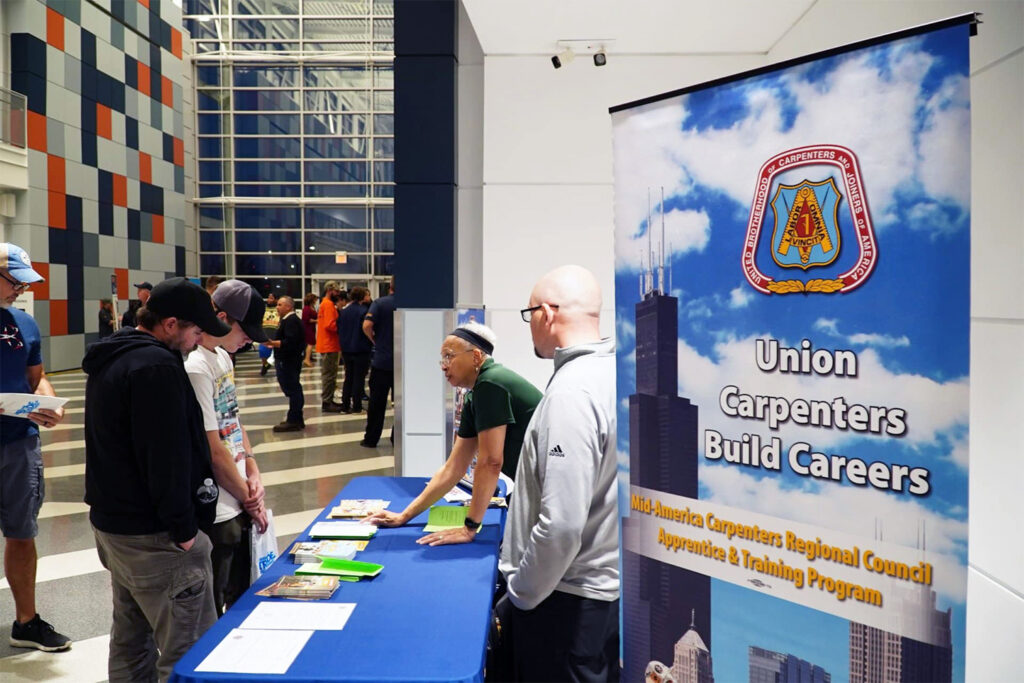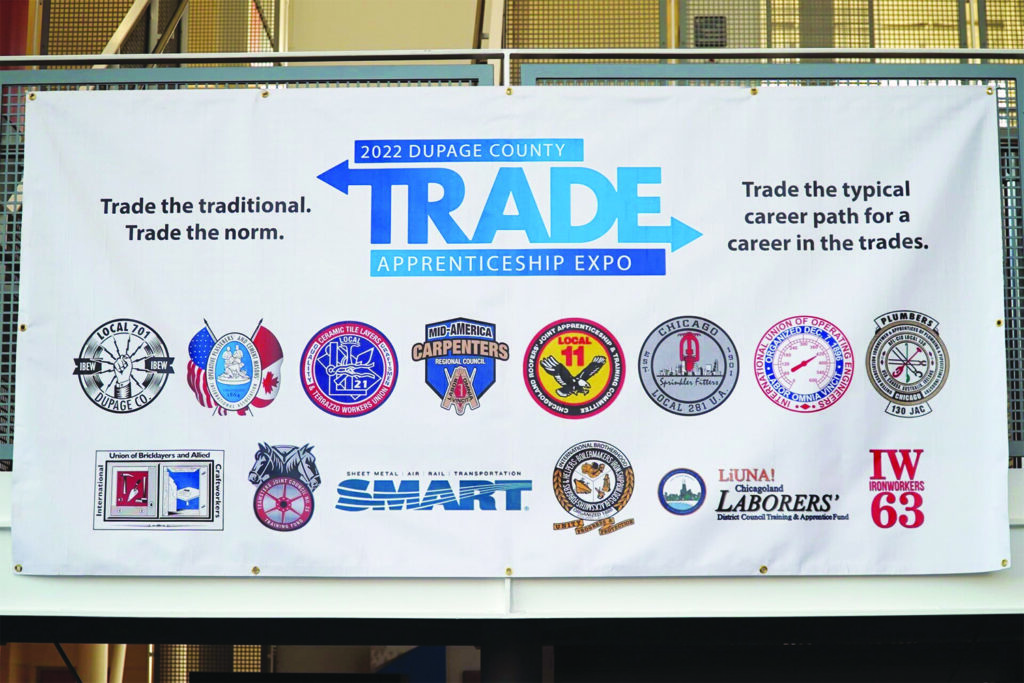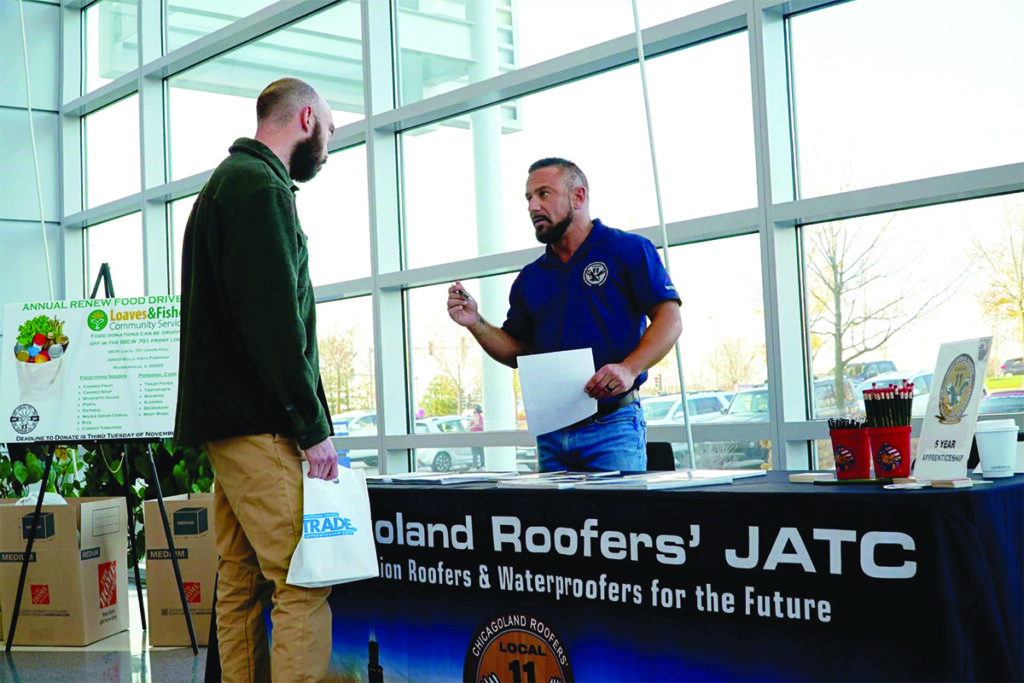 ________________________________________________________
CISCO Accepting Applications for Annual Pride in Construction Award Program
Sept. 14, 2023
Click image below or HERE for application.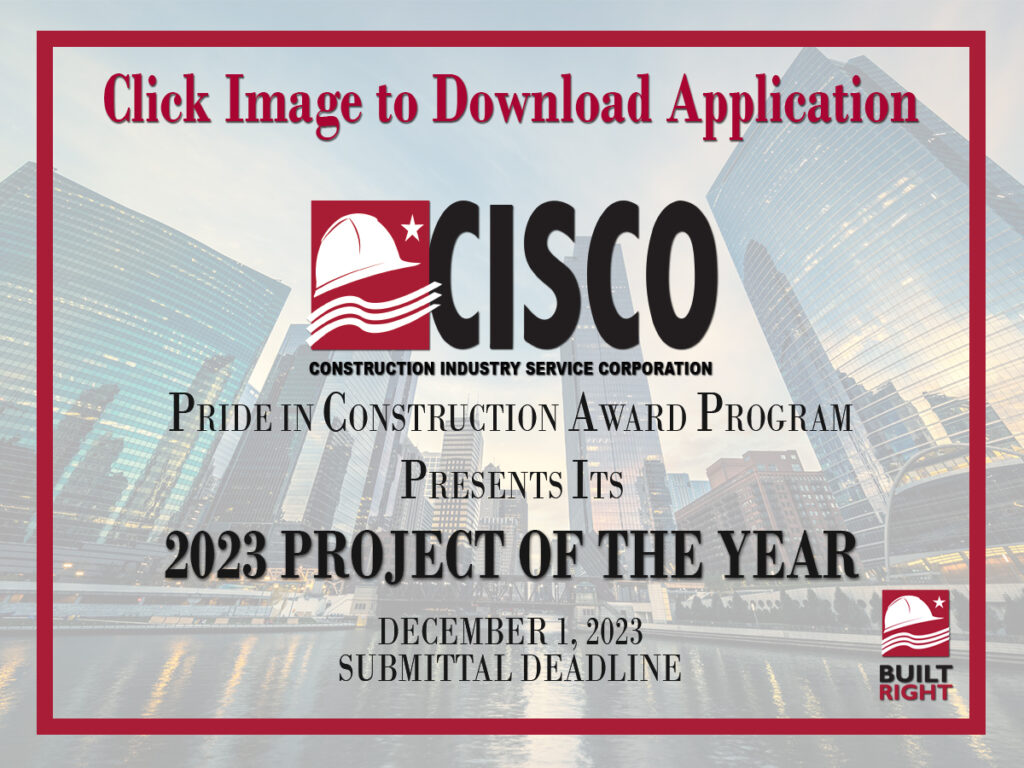 BURR RIDGE – If you think you've got one of the best construction projects in CISCO's 6-county area, including Cook, DuPage, Kane, Kendall, Lake and McHenry – prove it with a submission to CISCO's Annual Pride in Construction Award Program. Applications are being accepted through Dec. 1, 2023, from projects competed during May 2022 through December 2023.
CISCO's Award Program gives general contractors, owners, engineers and architects a chance to submit projects in six (6) different categories for recognition as that categories' Project of the Year. (See 2022 winners here). Categories include:
– New Construction – Chicago (Above $20M)
– New Construction – Suburbs (Above $20M)
– New Construction – Chicago or Suburbs (Below $20M)
– Rehabilitation
– Residential
– Infrastructure
Eligibility and Criteria
Each candidate's project needs to demonstrate a dedication to:

– Quality of Construction
– Design
– Impact to Community
– Safety Record
Deadline
Participants must complete the application form and submit it directly to CISCO. CISCO is not responsible for the return of any materials submitted. Deadline for submitting applications is 5 p.m. Friday, Dec. 1, 2023. For additional information, contact CISCO'S Director of Communications and Public Affairs Director Jennifer Rice at 630-472-9411. Applications can be sent via email at: jennifer@cisco.org, or via mail to: CISCO, 999 McClintock Dr., STE 100, Burr Ridge IL 60527.
Notification
Submittals will be reviewed in December 2023 during CISCO's Board Meeting, and winners will be selected at that time. Winners will be notified the week of Dec. 11, 2023. Due to the volume of submissions CISCO receives, only winners will be notified. Winning entries will be posted on CISCO's website – cisco.org, on Dec. 15, 2023.
Awards will be presented at CISCO's Annual Meeting in 2024. Winning entries and their team will be invited for recognition and celebration. An exact date for the meeting has yet to be determined – but will be held in January 2024.
________________________________________________________
St. Paul Trades Fair is Back for the 9th Year
August 10, 2023
St. Paul Community Development Ministries 9th Annual Construction Conference & Expo is back. As in years past, St. Paul Community Development Ministries is partnering with area organizations to host its annual Step Up to Opportunity Construction Conference & Expo. Find out what it takes to become a Union construction trades worker.
After the Expo, from noon to 1 p.m. stay for a pre-test assessment. For more info call 773-538-5120.
Register HERE.

Thursday, August 17, 2023
St. Paul Church of God in Christ Community Development Ministries
4550 S. Wabash Avenue Chicago, IL 60653
8 a.m. to noon

________________________________________________________
More Than 600 People Visit 2nd Annual Union Construction Trades Fair
July 28, 2023
CHICAGO – What a difference a year makes! At last year's inaugural event, 200 participants came to CISCO's Union Construction Trades Fair, held at the Chicago-based IBEW Local 134, to learn about apprenticeship opportunities and careers in the Union construction industry. During this year's 2nd annual event – held July 21, more than 600 participants came out!
Participants received information from 16 Union Trades, Union contractors, community groups and Union contractor associations. School age children and teens also received backpacks filled with CPS school supplies. MANY Unions and contractors donated school supplies and gave monetary donations!
CISCO's Education-to-Careers Director Jamillah Muhammad said the increase could be because more young people are looking for a career with stability, advancement, and job security – which can all be found within the building construction trades. "There are many options and paths you can take. There is a variety of roles and specializations, there's no college debt and great benefits," Muhammad explained.
Some participants stayed for the entire four-hour event because they were waiting on friends to arrive. "I am interested in finding a job," one participant said. Even though he understood this wasn't a hiring event, he felt it was important to invite his friends so they could see for themselves the benefits of working in the Union construction industry. He made a point to visit all 34 vendors to gather information.
Various schools and youth organizations brought students to the Trades Fair to let them learn that attending college is not their only option. Curie High School Counselor Linda Verano arranged for 17 of her students to attend the event. All of them are part of the high school's summer work-based learning programs.
In the Career Masters program, students become College Career Ambassadors. They research post-secondary pathways, compile the information, and present that information to the student body. The Tech Crew program provides students the knowledge and training to fix and repair things around the high school. Students are paid through both programs for their participation.
Verano was researching an event that was trades-related and came across information on CISCO's 2nd Annual Union Construction Trades Fair. "These students are really curious about their career options. As counselors, we need to know how the trades and apprenticeships work, so we're able to tell our students about viable career options," she explained.
This large school group could be seen inside the IBEW hall, stopping at different vendor tables, until they found their way outside to the Powering Chicago Mobile Field Trip Truck – a 73-foot semi-truck outfitted with solar panels and other emerging technologies that every IBEW Local 134 apprentice learns during their apprenticeship.
The Curie High School students found themselves listening to Powering Chicago Executive Director Elbert Walters III explain different ways electricity is generated – via nuclear power plants, solar power and wind turbines – and how the power is stored in batteries. Walters also explained how the electrical industry is changing.
"The great thing about our industry – it's expanding because everything is becoming electrified. If you're thinking about getting into a craft or trade that's going to pay you great wages – it's the Union trades. It's going to allow you different opportunities and be able to choose a specialty, be financially free and work anywhere in the country," he explained to the students.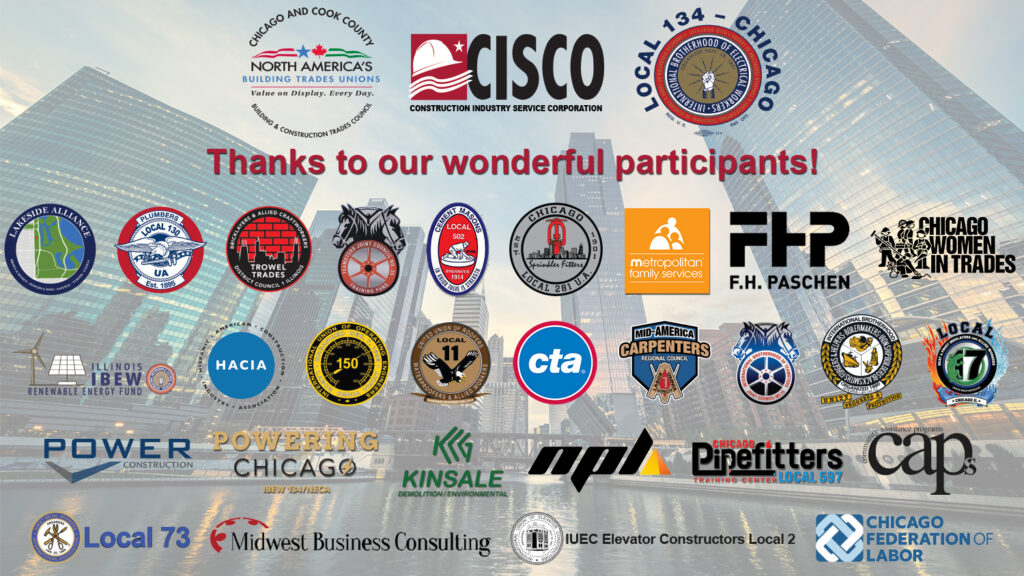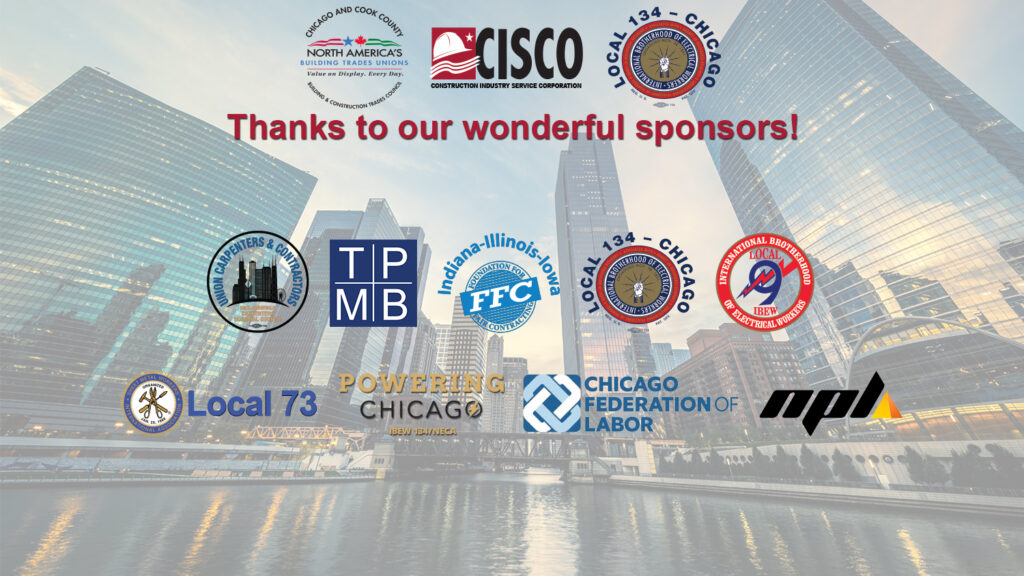 ________________________________________________________
Registration is open for CISCO's Annual Golf Outing
June 30, 2023
As we have in the past, CISCO is all set for its annual golf outing for Monday, Sept. 11, 2023 at the Bloomingdale Golf Club. Click the link below to print our 2-page flyer.
CISCO's Annual Golf Outing
Monday, September 11, 2023
Bloomingdale Golf Club
181 Glen Ellyn Rd., Glen Ellyn
Bloomingdale IL
7 a.m. Registration
8 a.m. Shotgun Start
1:30 p.m. Cocktails/Lunch
CISCO's 2023 Golf Outing flyer
________________________________________________________

Registration Open for CISCO's 2nd Annual Union Construction Trades Fair
May 30, 2023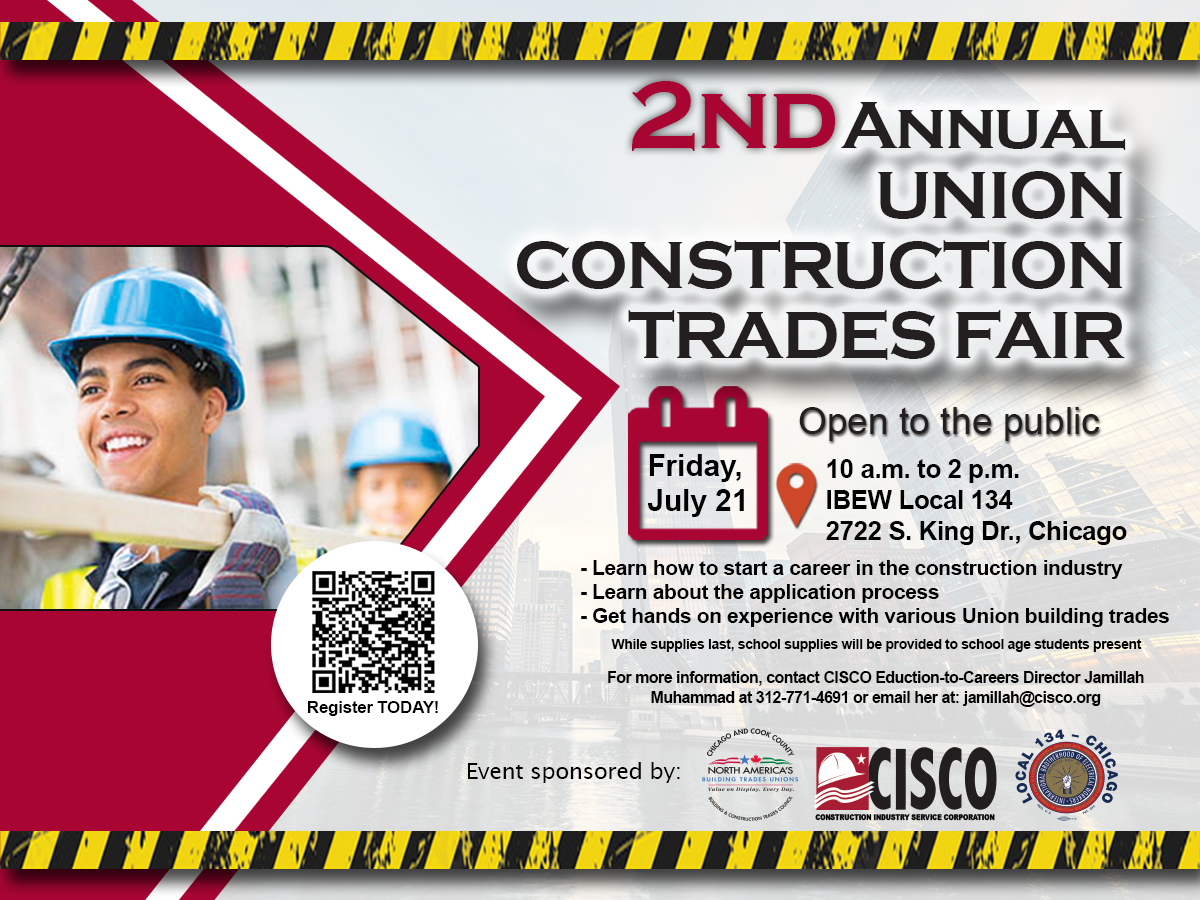 CISCO's 2nd Annual Union Construction Trades Fair
Friday, July 21, 2023
10 a.m. – 2 p.m.
IBEW Local 134
2722 S. Dr Martin Luther King Jr. Dr., Chicago
Register Here
BURR RIDGE – Register NOW for CISCO's 2nd Annual Union Construction Trades Fair. We're inspiring the next generation of tradespeople with this free and open to the public event that allows first-hand experiences of the Union construction trades and and opportunity to learn about application deadlines.
If you're wondering if construction is for you, come chat with Union reps July 21 about the endless opportunities in the construction trades. From welding to electrical work, there's something for everyone. Find out what an apprentice does and how much you can earn. avoid college debt and get paid to learn.
Explore high-quality careers in the Union construction trades, hear how to Avoid college debt and get paid to learn. Construction apprenticeship programs combine classroom instruction + on-the-job training so YOU can earn competitive wages!
________________________________________________________
Register NOW for CISCO's Annual Luncheon
April 3, 2023
Annual Luncheon
Friday, April 21, 2023
Maggiano's Little Italy
1901 Woodfield Rd
Schaumburg IL
Registration 11 a.m.
Breakfast/Program at noon
BURR RIDGE – Register NOW for CISCO's Annual Luncheon! Don't miss this opportunity to hear from Intersect Illinois CEO Dan Seals talk about the tremendous assets Illinois has to offer and why Illinois is home to 35 Fortune 500 companies and thousands of small businesses headquarters. (Sponsorship opportunities and more information can be found after this post).
Well also celebrate our CISCO Scholarship recipients by acknowledging their academic and their extra curricular activities. (See announcement of names below).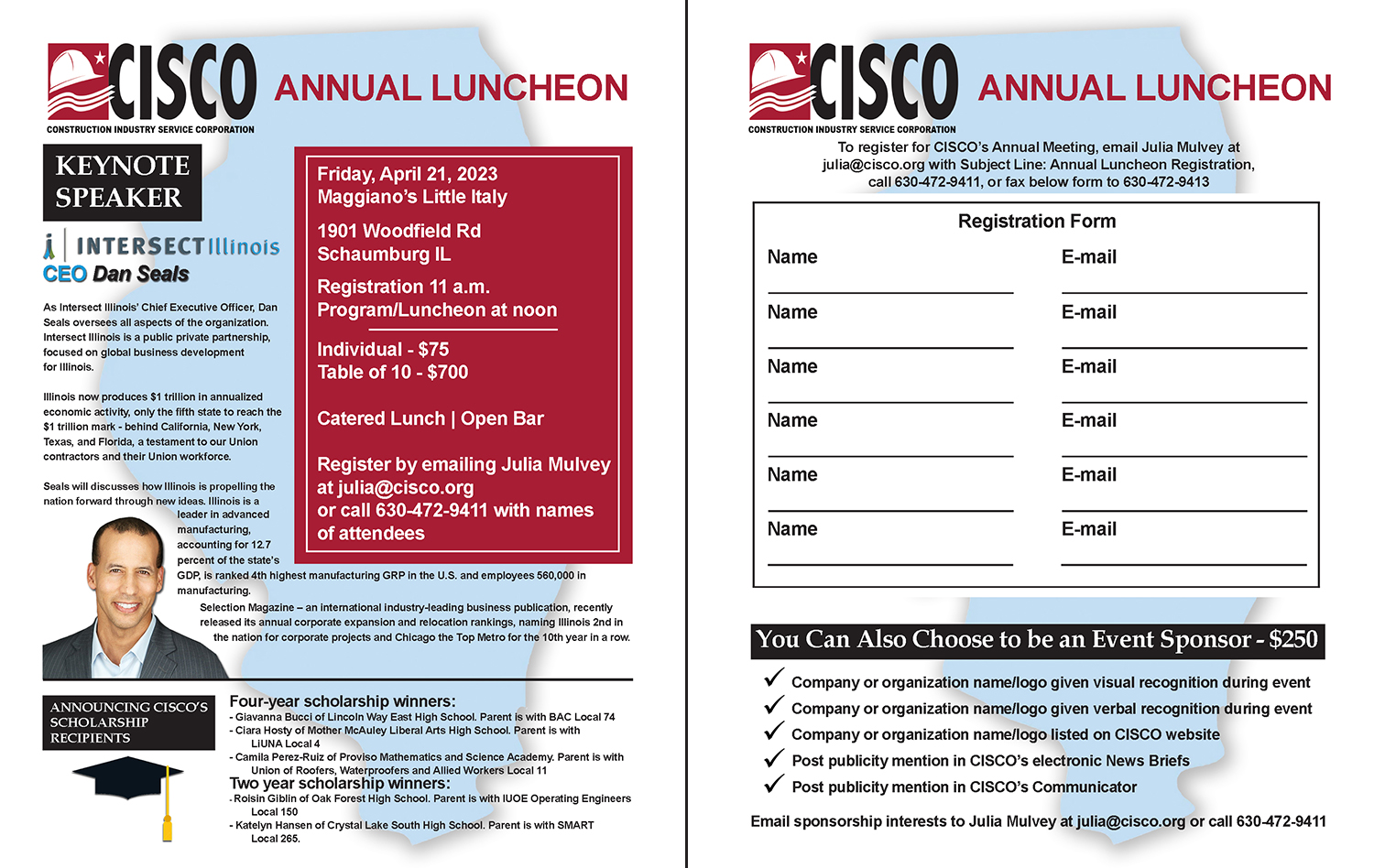 ________________________________________________________
Become a Sponsor for CISCO's Annual Luncheon
March 30, 2023
Annual Luncheon
Friday, April 21, 2023
Maggiano's Little Italy
1901 Woodfield Rd
Schaumburg IL
Registration 11 a.m.
Breakfast/Program at noon
BURR RIDGE – Become a sponsor TODAY for CISCO's April 21 Annual Luncheon (info below. Click on image to print documents). We'll have Intersect Illinois CEO Dan Seals as our guest speaker and CISCO will acknowledge its scholarship recipients. As Intersect Illinois' Chief Executive Officer, Dan Seals oversees all aspects of the organization, including marketing, sales, financing and personnel. Intersect Illinois is a public private partnership focused on global business development for Illinois.
Illinois now produces $1 trillion in annualized economic activity, only the fifth state to reach the $1 trillion mark – behind California, New York, Texas, and Florida, a testament to our Union contractors and their Union workforce. From a world-renowned research universities, to an expansive business community, to a vibrant startup ecosystem, Seals discusses how Illinois is propelling the nation forward through new ideas.
Illinois is a leader in advanced manufacturing, accounting for 12.7 percent of the state's GDP, is ranked 4th highest manufacturing GRP in the U.S. and employees 560,000 in manufacturing. Site Selection Magazine – an international industry-leading business publication, recently released its annual corporate expansion and relocation rankings, naming Illinois 2nd in the nation for corporate projects and Chicago the Top Metro for the 10th year in a row.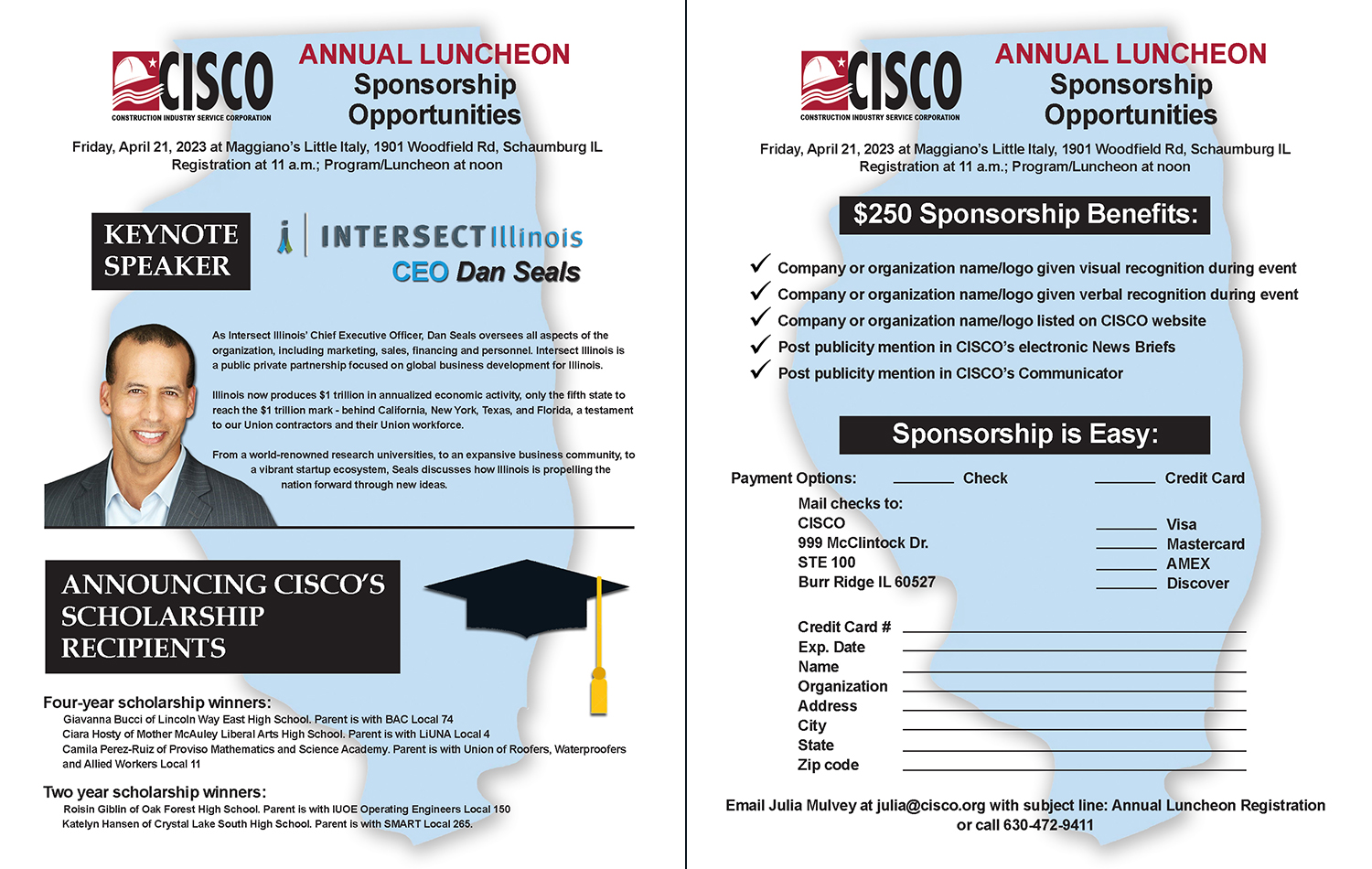 ________________________________________________________
CISCO Announces its Scholarship Winners for 2023
March 21, 2023
BURR RIDGE – CISCO is honored to announce the recipients of its 2023 Scholarships.
Four-year scholarship winners:
– Giavanna Bucci of Lincoln Way East High School. Parent is with BAC Local 74
– Ciara Hosty of Mother McAuley Liberal Arts High School. Parent is with LiUNA Local 4
– Camila Perez-Ruiz of Proviso Mathematics and Science Academy. Parent is with Union of Roofers, Waterproofers and Allied Workers Local 11
Two-year scholarship winners:
– Roisin Giblin of Oak Forest High School. Parent is with IUOE Operating Engineers Local 150
– Katelyn Hansen of Crystal Lake South High School. Parent is with SMART Local 265.
________________________________________________________
Award Recipients Give Inspiring Remarks During CISCO's Pride in Construction Awards
February 15, 2023
BURR RIDGE – The recipients of this year's Pride in Construction awards – whether they were individuals or construction projects, exemplified what is capable when imagination and Labor come together to build better and stronger communities.
As it does every year during CISCO's Annual Meeting, awards are given to both construction projects, as well as individuals who have made a positive impact on the Union construction industry. "These projects and individuals, without a doubt, show how world-class training and skills make a difference, said CISCO Executive Director Dan Allen.
Making an impact with our youth, Simeon High School CTE Electricity Instructor Latisa Kindred has mentored more than 150 students by teaching the IBEW curriculum to young men and women. Many have gone on to have careers in the electrical industry, construction management and other related Union jobs. Her relentless efforts earned her CISCO's Educator of the Year award.
Like most teachers, her work does not stop when she leaves her high school. At the end of the day, she continues working for her students. "Because of the work I've been able to do, my students are able to contribute to their families and communities, which makes us stronger. We all build a stronger America. Isn't that the goal?" Kindred questioned the crowd.
Succeeding in her job takes more than just her dedication and expertise. When supplies in her classroom run low, she has a support system she relies on, which was present in the crowd she was addressing. "I'm looking out at you right now, she said. "People are always there for me," she explained. Many times, the Chicago-based IBEW Local 134 stepped up and donate supplies Kindred needed to keep her classroom going and students learning.
"You all have brought tears to my eyes, and I'm grateful you have all supported my students," she added. "I hope and pray that everybody continues on this journey to build our future – which is the pipeline to construction in America, not just Chicago."
Even though Kindred can educate, and Unions can train thousands of tradesmen and women, if we don't have elected officials as partners who appreciate the signatory contractors and skilled Union tradesmen women that build, then it's all for nothing.
One thing is for sure, the City of Countryside has a friend with Labor, which is why it was selected as Public Body of the Year.
Allen said Countryside Mayor Sean McDermott has a vision to protect working people. Not only does McDermott recognize and acknowledge hard-working men and women by supporting Project Labor Agreements, McDermott is an advocate for Responsible Bidder Ordinances.
One of his city's project McDermott is most proud of is Countryside's Municipal Complex, Illinois first net zero municipal building, which produces as much energy annually as it uses, and has its LEED Gold Certification, which was constructed with virtually 100 percent Union contractors.
"I believe we have a responsibility to do what we can when it comes to protecting the environment and working with Labor. When you combine these two movements, we can get a lot done. I'm extremely proud of our net zero building," McDermott explained.
He also thanked his friends at Operating Engineers Local 150 adding, "if you're ever in a fight, these are the guys you want to have your back."
The final individual award winner was Pamyla Fountain Brown as CISCO's Labor Advocate of the Year, who has always been at the forefront of providing opportunity for individuals, who may never have such an opportunity.
Brown has been a leader in diversity and inclusion, exposing young people to multiple trades and other professional careers in the Union construction industry. Her career has spanned decades with her work at Turner Construction and Lakeside Alliance as Director of Community and Citizenship.
Overwhelmed with emotion after receiving her award, Brown said she was, "too cool to cry." Instead, she reminded people that what she does, she does for others. "I am humble to stand shoulder-to-shoulder with you in this movement. It makes me proud. I encourage all of you to continue to be in the fight WITH us and FOR us. We have to be stronger together," she explained.
Construction Project of the Year Recipients
The CISCO Board of Directors selected some inspirational and unique projects at this year's event. The winners in five different categories illustrated the joint commitment, training and professionalism one can expect of Union contractors and a skilled union workforce.
In the New Construction – Chicago (Above $20M), the CISCO Board selected Plumbers Local 130 UA parking garage, submitted by W.E. O'Neil for its client, Plumbers Local 130 UA.
This $29 million, 254,000-square foot parking structure houses 600 parking spots, 36 spaces for bikes, grade level retail opportunities, a second-floor retail space and amenities for the Plumbers Union.
Both in color and material, the façade of the structure pulls from the West Loop's historic buildings. Large cutout planters give the parking deck a modern residential feel, uniting it with its newer neighbors. The structure eases the pressure on nearby residential roads and is intended to create a more walkable experience in Fulton Market and the greater West Loop neighborhood.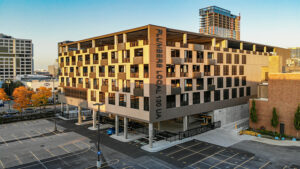 Plumbers Local 130 UA Financial Secretary Treasurer Ken Turnquist said the Plumbers Union didn't want a standard looking garage. "We're happy with the way the garage turned out and it's getting used frequently," Turnquist explained.
A construction project in Kane County receive the highest vote-getter for New Construction – Chicago or Suburbs (Below $20M), which was the Mooseheart Activity Center (MAC) submitted by R.C. Wegman for its client Mooseheart Child City & School. This unique, residential facility is operated by the Loyal Order of Moose fraternal organization and sits on a 1,000 acre campus.
Mooseheart operates as a home for at-risk children and teens, ranging in age from infancy through high school. Mooseheart provides them with a living and learning environment, which offers stability, education, and personal growth. Because of this unique environment, the Mooseheart Activity Center needed to draw in, engage and educate a large range of children. This was achieved with colorful geometric wall patterns, rainbows of colors in the millwork and lighting displays, and the interior is packed full of energy and excitement.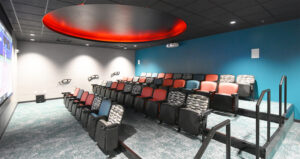 The Mooseheart Activities Center includes an exercise room with the latest fitness equipment, multi-purpose activity space, a movie theater, a 4-lane regulation bowling alley and a outdoor splash pad. Mooseheart Executive Director Gary Urwiler said his organization and the children it mentors have been truly blessed by the interactions with others.
In the Rehabilitation category, another Kane County project received top honors, which was Boulder Point, submitted by Leopardo Companies for its client Oswegoland Park District. This project consisted of an expansion and renovation of a 15,000 square-foot community center. It is home to programs that include fitness, gymnastics, theater, preschool and dance.
This large scale renovation added approximately 3,500-square feet to the existing center. Various architectural elements were removed to make away for a new lobby and programming spaces. Other work included full interior build out with new mechanical, electrical and plumbing systems, as well as millwork, stairs, and finishes.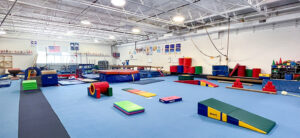 Leopardo also made ADA and energy efficiency improvements and installed a new sprinkler system in classrooms and activity rooms that previously had NO fire protection systems in place at all. All these renovations and upgrades continued while the facility remained opened and operational – a true testament to the safety protocols in place and pre-planning efforts.
In a unique twist this year, the winner in Residential construction was awarded to Pepper Family Wildlife Center at Lincoln Park Zoo for work done on the zoo's antiquated Lion House.
For more than a century, a pride of African lions have reigned as the kings of their domain at the Lincoln Park Zoo. Their castle, their home, was one of the zoo's oldest structures. Over decades of use, the space had lost most of its majesty and the pride deserved a modern and updated home.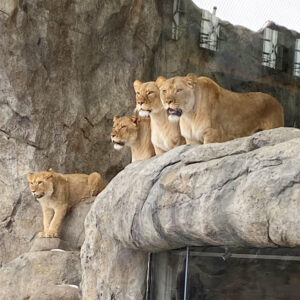 With the last significant renovation in 1990, the lions remained in limited spaces inside and out, with guests separated at a considerable distance. The new 54,000 square-foot state-of-the-art facility, doubles the size of the previous lion habitat.
Regarding the project, Pepper Construction said, "Everything was unique about this job. There's not a more challenging type of customer you're going to encounter. The end-user is a lion. How are you going to communicate with them?"
After construction, visitors can now experience nose-to-nose, close-up and naturalistic views of the lions. The expansion of the habitat includes intricate rockwork, climate controlled features and zip lines with meaty food, simulating prey and providing an enrichment opportunity for the lions.
And in another unique blessing, shortly after the CISCO Board chose this project, triplet lions were born at the zoo!

Pepper Construction Project Manager Joe Gallo, who was involved in construction of the lion house from start to finish, said he was incredibly honored to be part of the project and to bring the animals "more space, and a state-of-the-art exhibit. This structure brings a cornerstone exhibit back to the Lincoln Park Zoo."
In the final category for Infrastructure, the award went to the Tri-State Tollway (I294)/I57 Interchange Project, Phase two, which was submitted by the Illinois Tollway. Two years ahead of schedule, the Illinois Tollway opened the final ramps to provide full access at this interchange, delivering a new gateway for commerce and economic development in the Chicago Southland region. This project FINALLY connected both Interstates – one of only two spots in the nation where Interstates crossed, but did not connect.
This new, all electronic Interstate-to-Interstate connection better serves commuters and freight operators, while opening greater access for local communities, a fact highlighted by a story from Illinois Tollway Executive Director Cassaundra Rouse.
While talking with an educator in the Chicago Southland area, he told Rouse he had a student in his class who had becoming disinterested in learning. However, he began to noticed a spark in his student's walk and she was becoming more interested in her classroom studies. After further discussions, the teacher learned her parents had been unemployed for a number of months. One of them for more than a year.
But after the completion of the tollway project, Amazon invested in a new facility, bringing 3,000 new jobs to the Chicago Southland area. The student's parents were able to get employment for the first time in a long time. "These jobs changed the students disposition in the classroom. So not only are we making economic impacts in the communities we serve, it's also impacting families and students directly in their ability to learn in the classroom," Rouse explained.
She announced more development is planned with projects valued at more than $215 million, which is expected to affect Harvey and Country Club Hills. "There are ongoing projects planned in Tinley Park and other areas. The Interchange is expected to add more than 2 million-square-foot of commercial space, allowing businesses to move goods and services throughout the Chicago Southland area and beyond," Rouse added.
________________________________________________________
Register Today to Attend CISCO's Annual Meeting
January 12, 2023
BURR RIDGE – REGISTER TODAY for CISCO's Feb. 10 Annual Meeting at Maggiano's in Schaumburg, or visit here. We'll honor our annual Projects of the Year, Educator of the Year, Public Body of the Year and Labor Advocate of the Year recipients. Email Julia Mulvey at julia@cisco.org or call us at 630-472-9411.
Annual Meeting
Friday, Feb. 10, 2023
Maggiano's Little Italy
1901 Woodfield Rd
Schaumburg IL
Registration/Breakfast at 8 a.m.
Program at 9 a.m.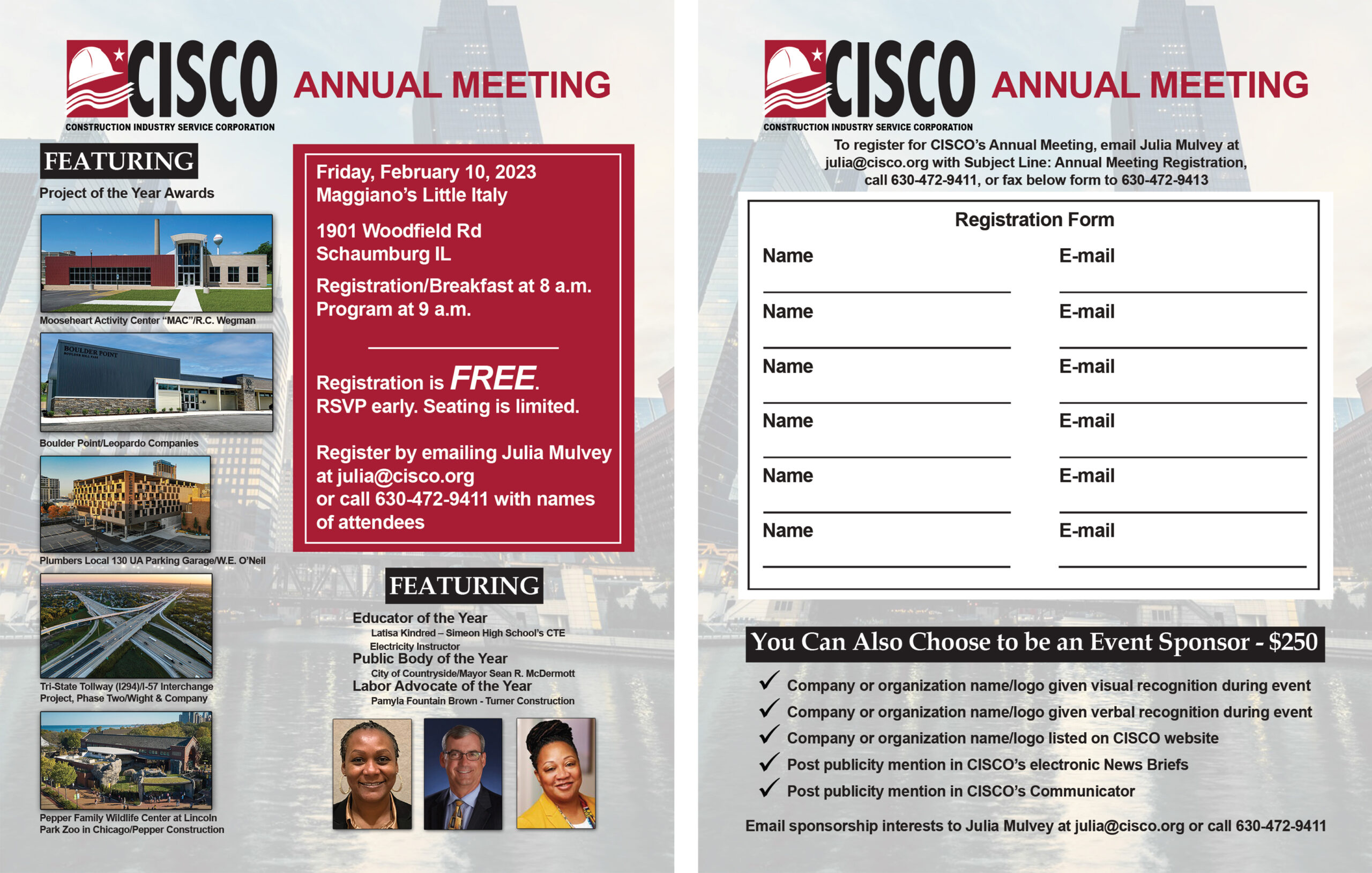 ________________________________________________________
Become a Sponsor for CISCO's Upcoming Annual Meeting
January 10, 2023
BURR RIDGE – You can find information below on CISCO's sponsorship opportunity for its Feb. 10 Annual Meeting, or visit here. At our Annual Meeting, we'll honor our annual Projects of the Year, Educator of the Year, Public Body of the Year and Labor Advocate of the Year recipients. Email Julia Mulvey at julia@cisco.org with the subject line: Sponsorship Opportunity, or call us at 630-472-9411.
Annual Meeting
Friday, Feb. 10, 2023
Maggiano's Little Italy
1901 Woodfield Rd
Schaumburg IL
Registration/Breakfast at 8 a.m.
Program at 9 a.m.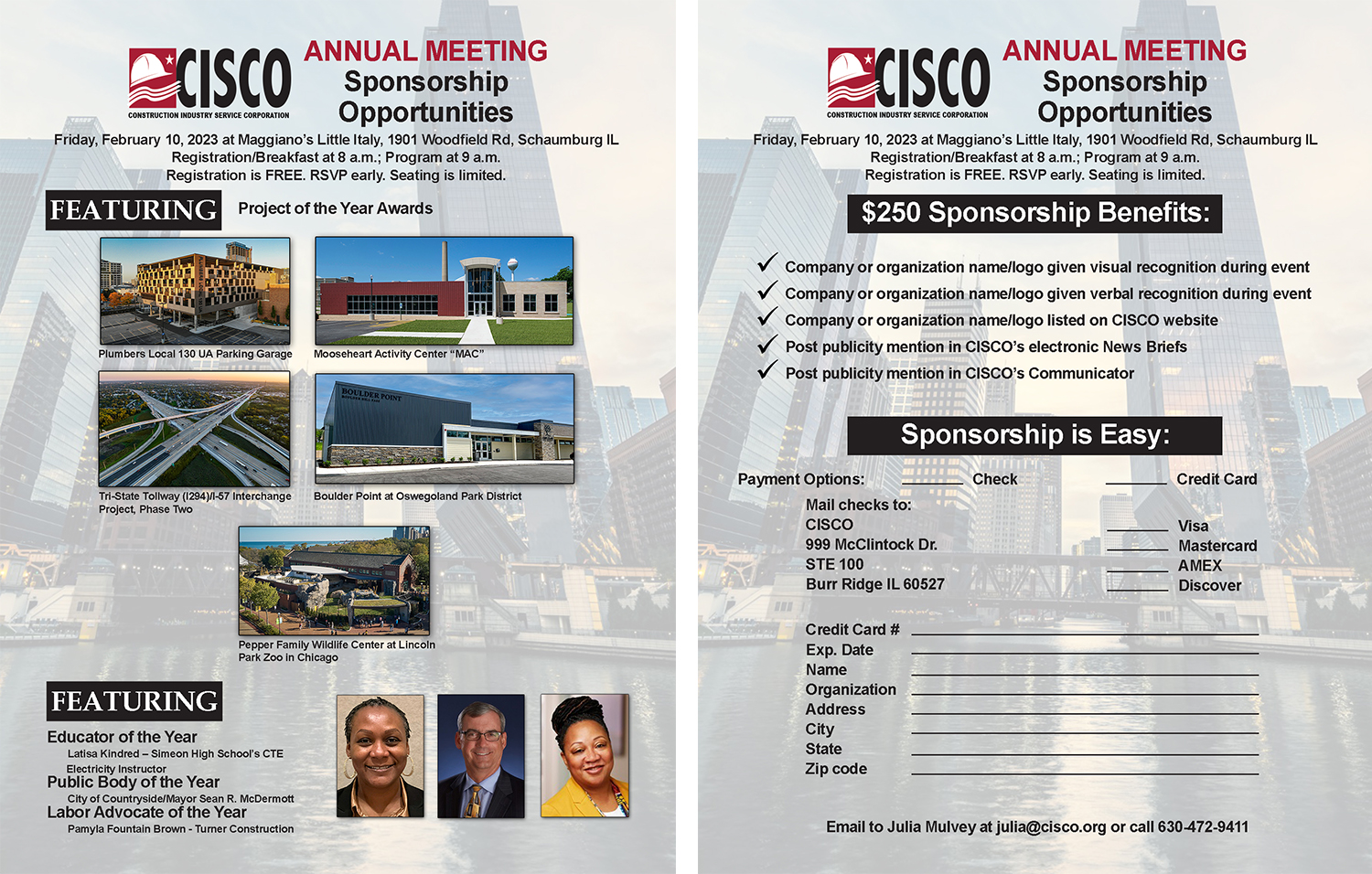 ________________________________________________________
CISCO Announces Scholarship Program is Underway for 2023
November 29, 2022
BURR RIDGE – CISCO is accepting applications for its long-standing Annual Scholarship Awards Program. Applications are available by clicking on one of the three types of scholarship awards below.
Our three (3) scholarship program categories are:
– Three (3) four-year scholarships ($2,000/year). DOWNLOAD APPLICATION HERE
– Two (2) two-year awards ($1,000/year) for seniors planning on attending a community college. DOWNLOAD APPLICATION HERE
– Two (2) two-year continuing education awards ($1,000/year) to Union members or contractor employees. DOWNLOAD APPLICATION HERE
________________________________________________________
CISCO Annual Luncheon Hits Home Run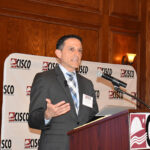 CISCO's Annual Luncheon touched all the bases with a dynamic keynote speaker, the glowing faces and families of 5 scholarship winners, and a surprise presentation to two long-term board members. And for good measure, about 250 guests enjoyed a delicious lunch last week courtesy of Maggiano's Little Italy in Schaumburg.
The event featured Keynote Speaker Javier Ramirez, Deputy Director of Field Operation for the Federal Mediation & Conciliation Service (FMCS), the recognition ceremony of CISCO's 2022 Scholarship Award winners, and the honoring of CISCO's Board Members Jim McGlynn and Dave Henderson, who were marking their 30th and 25th years of serving on the board, respectively.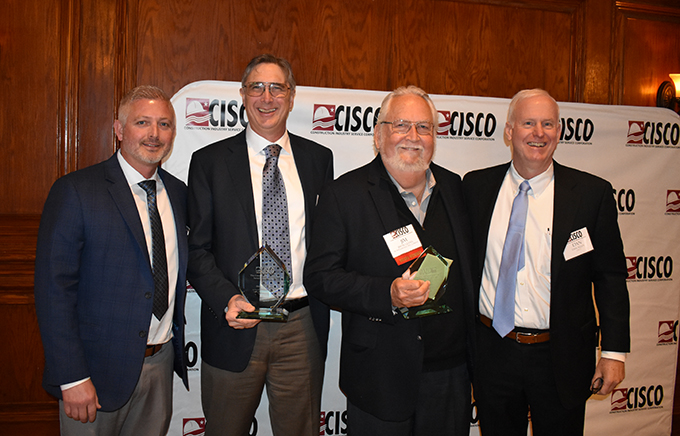 In his remarks, Javier Ramirez talked about his childhood and remembered three phrases of wisdom from his parents that have helped shape his career: 1) Do the right thing; 2) Try to help others, and 3) Let your work speak for you.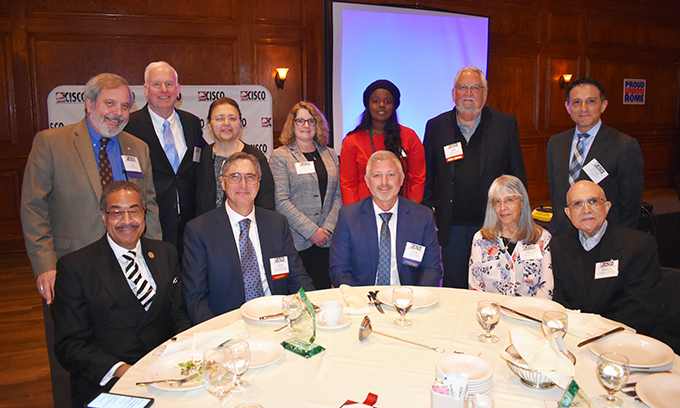 He said that the FMCS was formed to help create labor peace. "Collaboration, communication, early intervention and third party mediation are all good tools to negotiate a contract," Ramirez said.
"In construction, too often, negotiators think it is a badge of honor to avoid federal mediation," he added. "But the industry should not feel embarrassed to take that route."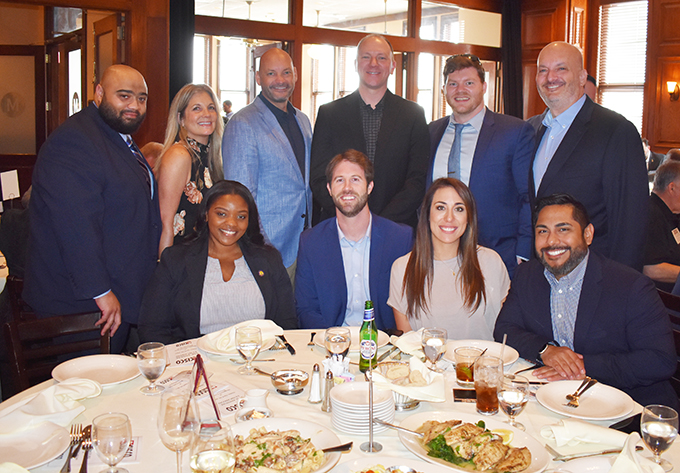 To see more photos of the event, click here.





________________________________________________________
CISCO/CPS Skilled Trades Career Fair Draws More Than 3,000 Students
Another CISCO partnering effort – this time with Chicago Public Schools and the Chicago Cook Workforce Partnership – attracted more than 3,000 students to McCormick Place for a three day (March 22-24) Career Fair that featured 12 different building trades and dozens of contractors, pre-apprentice programs and other organizations.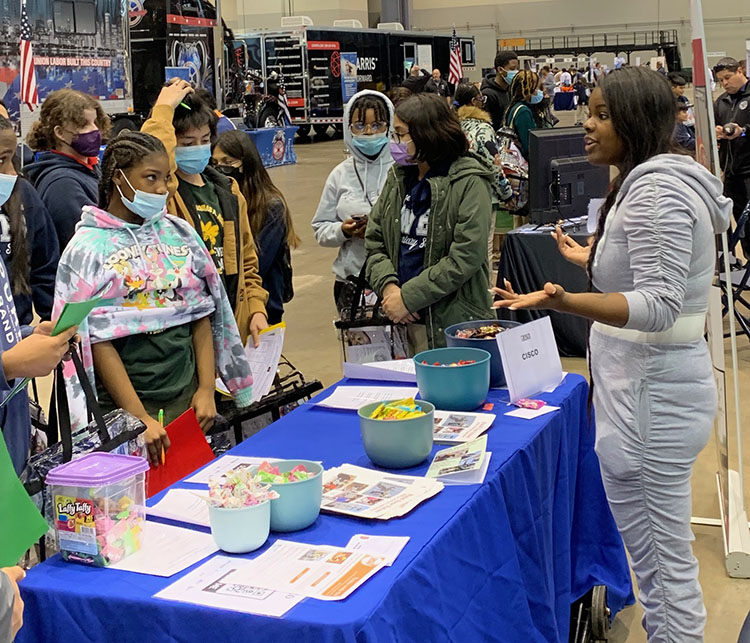 Open to CPS students only, the goal of the Career Fair was to expose and connect students at risk of becoming disconnected from work and school after graduation, with the necessary information and tools to explore a career in the skilled trades.
____________________________________________________________

CISCO Unveils 2021 Annual Report
CISCO's Annual Report is hot off the presses, and contains last year's accomplishments, as well as a look in the future of the union construction industry. To read and print the report, click here.
ILEPI Video: The Value of Union Apprenticeships
Please take a look at the YouTube link below provided by Executive Director of the Illinois Economic Policy Institute (ILEPI), Frank Manzo IV. This is another tool we can use in our efforts to highlight why strong enforcement of the Illinois Prevailing Wage Act is vital in ensuring the future of Union apprenticeship programs and strong wages for Illinois families in the Union construction industry. Watch the video – click here.
CISCO Board Announces Selections For Top 2021 Construction Projects
CISCO's Board of Directors recently determined which construction projects were winners in six different construction categories – part of CISCO's Annual Pride in Construction Awards for Projects of the Year. Among the entries submitted by General Contractors, Builders, Architects and other organizations, the top choices were:
New Construction – Chicago (+$20m):
Midway Security Checkpoint Expansion; GC – F.H. Paschen; Cook County.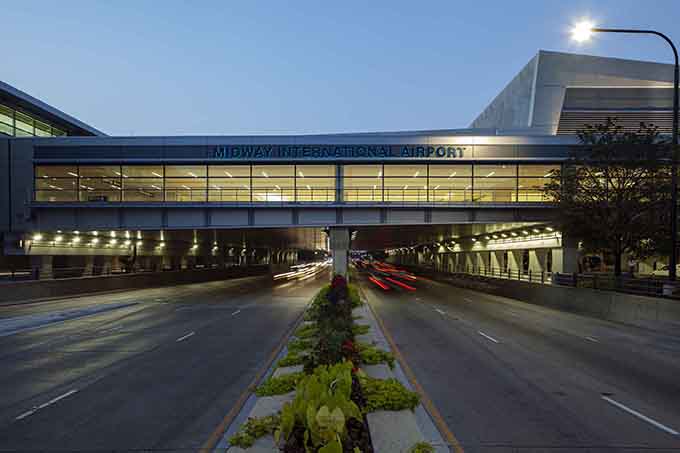 New Construction – Suburbs (+ $20m):
Forester Hotel; GC – William A. Randolph; Lake County.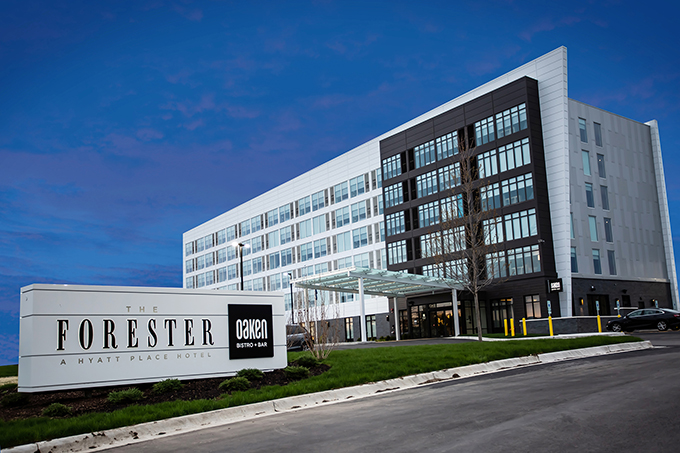 New Construction – City/Suburbs (Under $20m): Kane County Multi-Use Facility; GC – R.C. Wegman; Kane County.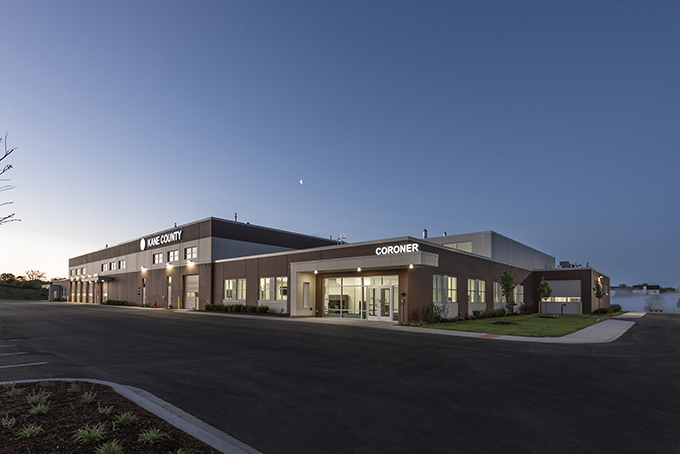 Infrastructure: I-294 Mile Long Bridge; GC – F. H. Paschen; Cook County.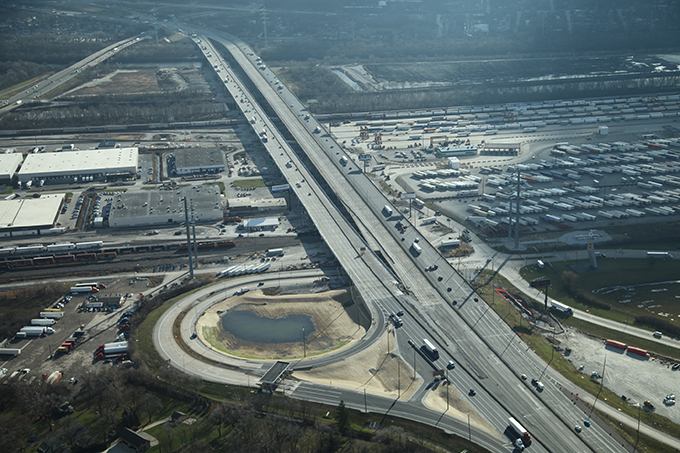 Rehabilitation: Queen Bee School District Additions/Renovations; GC – Riley Construction; DuPage County.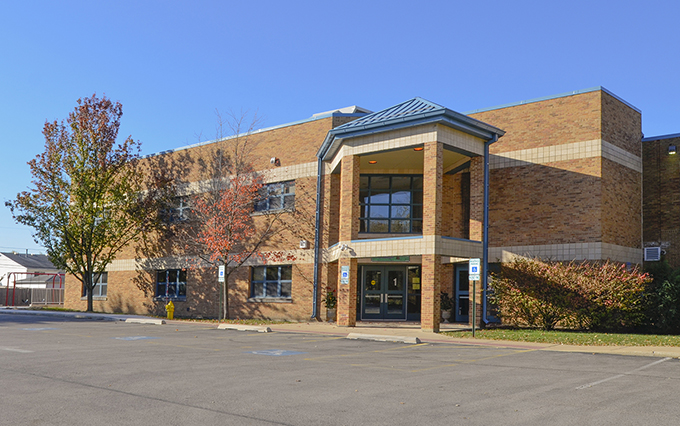 Residential: Westerly; GC – James McHugh Construction; Cook County.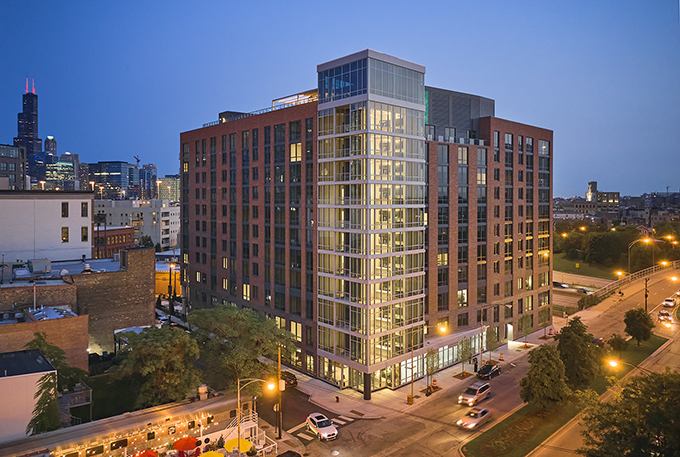 CISCO wishes to recognize each and every entry for its quality of construction, design, impact on the community and safety record. Even under extreme circumstances, amidst an unprecedented pandemic, general contractors, subcontractors and the men and women who construct these buildings collaborated to stay safe, stay on time, and within budget to complete these amazing projects.

















































































CISCO Golf Outing Enjoys Another Successful Day Of Fun and Charity Benefits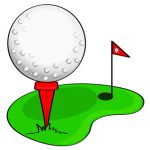 Ideal weather and a fun, full house of golfers got to relax on a Monday to start off the week right.
See photos below. For more pictures, click here.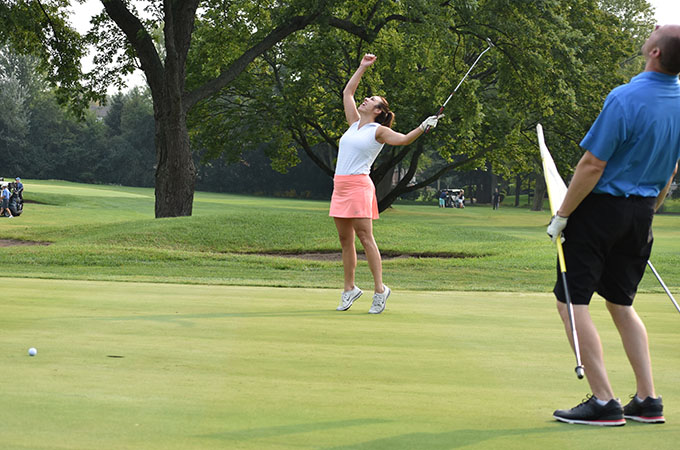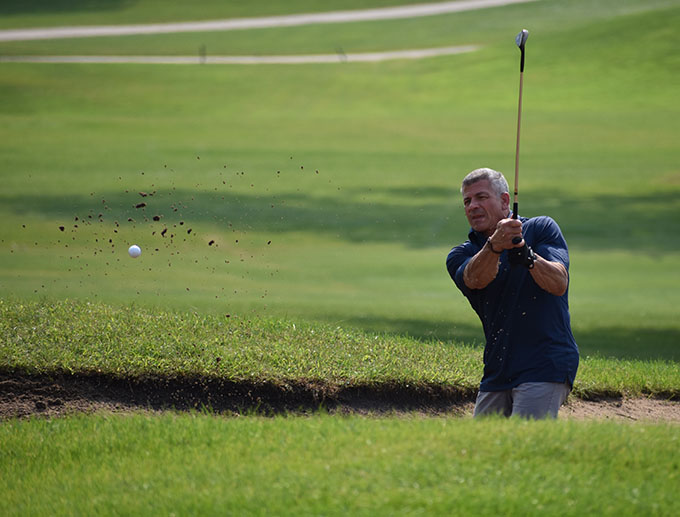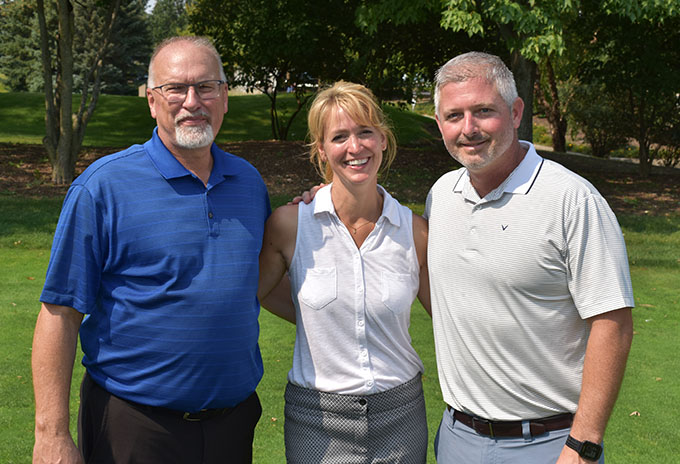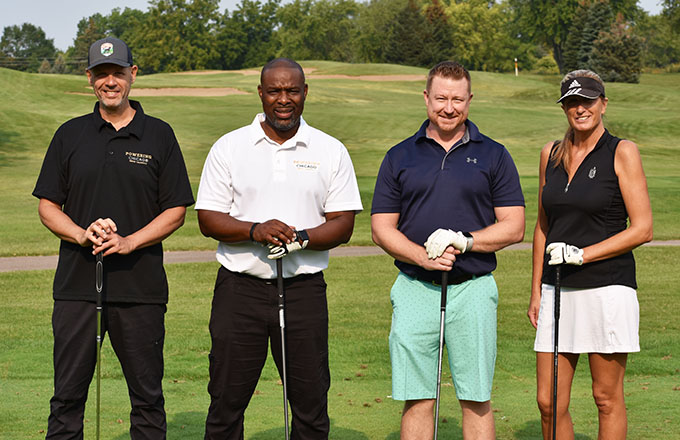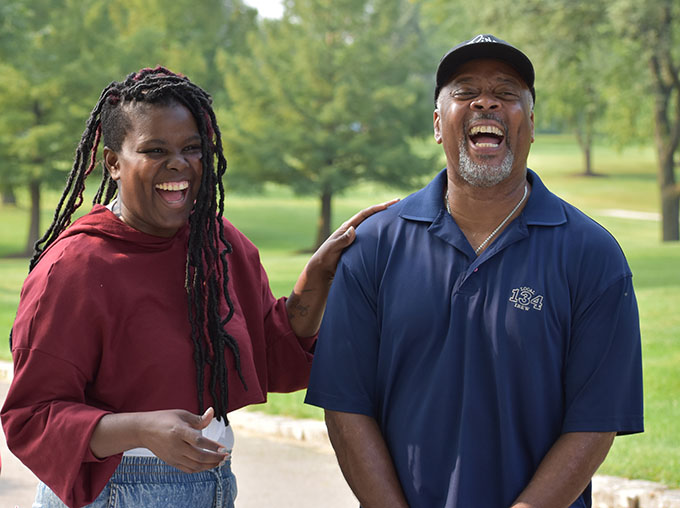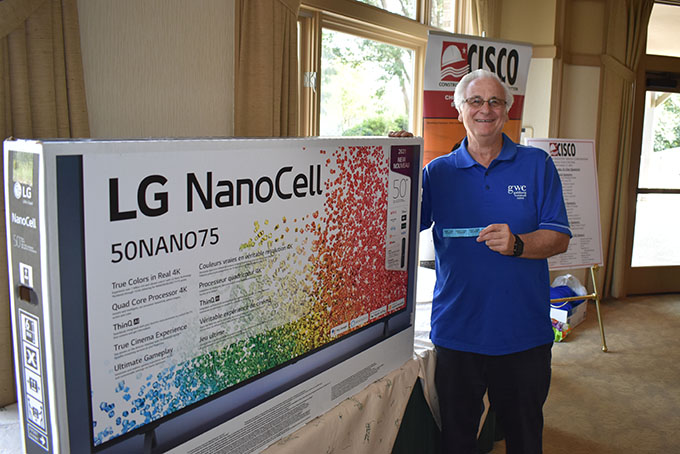 Many thanks to the following for sponsoring the outing!
Lunch Sponsors:
DuPage County Building Trades
IBEW Local 701
Laborers' District Council
Laborers' Local 68
Megent Financial
Powering Chicago
Sprinkler Fitters Local 281
Ullico
Beverage Sponsors:
Amalgamated Bank of Chicago
Chicagland AGC
IBEW Local 9
Roofers & Waterproofers Local 11
Underground Contractors Association
Halfway House Sponsors:
Chicago & Cook County Building Trades
Residential Construction Employers Cncl
UllicoHole Sponsors
•BAC ADC Local 1
•Blue Cross Blue Shield of Illinois
•Boilermakers Local 1
•CED Inc.
•Chicago Federation of Labor Workforce & Community Initiative
•Chicagoland Regional Council of Carpenters
•Concrete Contractors Association
•Construction Safety Council
•Delta Dental
•Eye Boutique
•FCA of Illinois
•Fox Valley Bldg. Trades Council
•Heat & Frost Local 17
•Hunt Insurance Group
•IBEW Local 9
•Italian American Labor Council
•Lake County Building & Construction Trades Council
•PCA Midwest
•Plumbers Local 130
•PowerForward DuPage
•Powering Chicago
•ScreenSafe, Inc.
•Vogelzang Law
Prize/Gift Donors
•Eye Boutique
•Megent Financial
•PCA Midwest
•Sommers & Fahrenbach
•Vogelzang Law
CISCO Scholarship Winners Recognized at April 29 Annual Luncheon

At the conclusion of the Annual Luncheon, CISCO Executive Director Dan Allen recognized the 2022 scholarship winners. The recipients were:
Four-year scholarship winners:
1) Sophia Alvarez – York High School in Elmhurst; Parent – Laborers' Local 582
2) Julia Chom – Hoffman Estates High School; Parent – IBEW Local 134
3) Katelyn McCann – Wilmington High School; Parent – IBEW Local 134
Two-year scholarship winners:
4) Sophie Brown – Lisle High School; Parent – UBC Carpenters Local 1889
5) Leonardo Barrientos – Lane Tech High School; Parent – Bricklayers Local 21
Continuing Education scholarship:
6) Michael Chiaramonte – Elmhurst University; Affiliation – McWilliams Electric Company, Inc.
Annual Meeting Announces New CISCO Board & Officers
During the opening remarks of CISCO's Annual Meeting, outgoing Board president Dave Henderson recognized the 2022 Board of Directors. Henderson, who was completing his third, two-year stint as President over 25 years as a CISCO Board Member announced the new officers: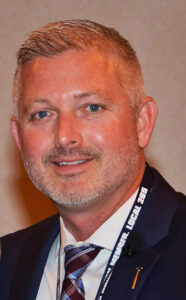 President John Daniel, (pictured) President/Business Manager for SMART Local 265; Vice President Melanie Izral, Ray Edwards Contractors, Inc. and affiliated with the Underground Contractors Association, Treasurer Frank Furco, Business Manager/Financial Secretary of IBEW Local 701, and Secretary S.J. Peters, Executive Director of PCA of Greater Chicago.
CISCO Annual Meeting Checks All The Boxes Of A Great Event
What could be better than hearing remarks from Illinois Attorney General Kwame Raoul, State Comptroller Susana Mendoza, DuPage County Chairman Dan Cronin and two teachers from Stagg High School, who have successfully launched a construction program for students who are interested in careers in the construction industry!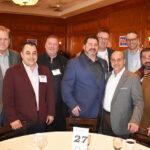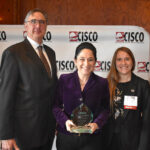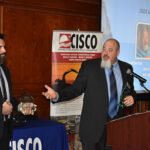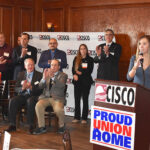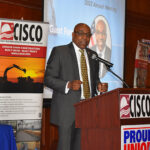 That's what happened last week Friday as nearly 300 guests attended CISCO's Annual Meeting at Maggiano's in Schaumburg. And for good measure, six construction projects and their teams were recognized as Projects of the Year as part of CISCO's Annual Pride in Construction Awards.The full house left to digest both the great breakfast fare, and the food for thought about the future of the union construction industry in northeast Illinois.CISCO would like to thank all those who attended, as well as all of the organizations that sponsored the event. To see more photos from the event,
click here
.
CISCO Part of National Labor Panel Program on WCPT – 820 AM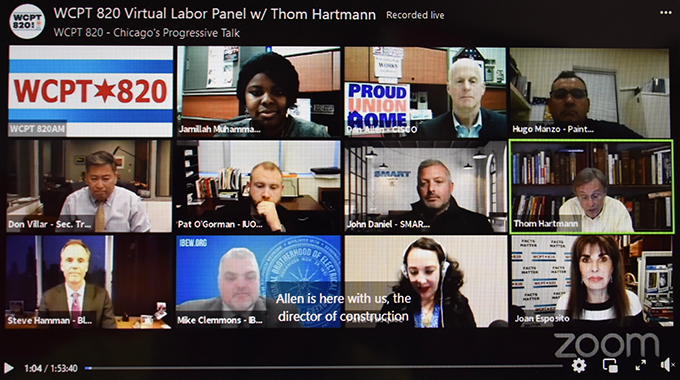 CISCO's Dan Allen and Jamillah Muhammad were panelists featured on WCPT's recent special, two-hour, Labor Panel.The virtual program was hosted by National Show Host Thom Hartmann and co-hosted by Joan Esposito and Patti Vasquez.
The Labor Panel Program was live on WCPT – 820 AM and was live streamed on WCPT820.com, as well as live streamed on Facebook and mobile apps, and CISCO's Facebook page. To watch the entire program, click here.
Dan and Jamillah were joined by leaders from Finishing Chicago, SMART Local 265, Operating Engineers Local 399, Blue Cross Blue Shield, IBEW Local 176 and the Chicago Federation of Labor.
Issues discussed involved items that impact both the labor community and middle class, including the labor-friendly infrastructure plan, the Pro Act, how immigration reform affects labor, the role of diversity and inclusion in the building trades, and the future of clean energy training and jobs.


Painters District Council #14 Latest To Be Featured During "Construction Talks" Webinar Series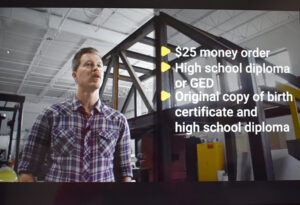 "Construction Talks" most recent visit was to the Training Center of the Painters District Council #14 in Berkley. This was the 9th episode in the series which began in 2020.
The webinar featured Dan Penski, Jr., Director of Training (pictured above), Instructor Veronica Leal, and second year apprentice Rahm Jointer. Also involved in the panel discussion were CISCO's Education-to-Careers Director Jamillah Muhammad, and Brandy Phillips and Sam Hunt from the CTA.
The 50-minute webinar featured Dan Penski explaining the requirements needed to apply to the program, as well as a description of the trades' duties. In addition, Ms. Leal and Mr. Jointer explained how they got interested in the trade and their experiences during training and how it changed their lives. To view the entire video, click here.
At Last: Groundbreaking Occurs for Obama Presidential Center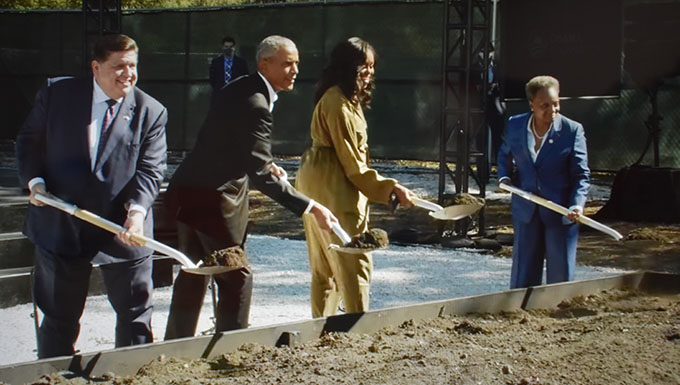 Former President Barack Obama and former First Lady Michelle Obama were on hand to ceremoniously break ground on the Obama Presidential Center. The couple were joined by Governor JB Pritzker and Mayor Lori Lightfoot in the one-hour ceremony.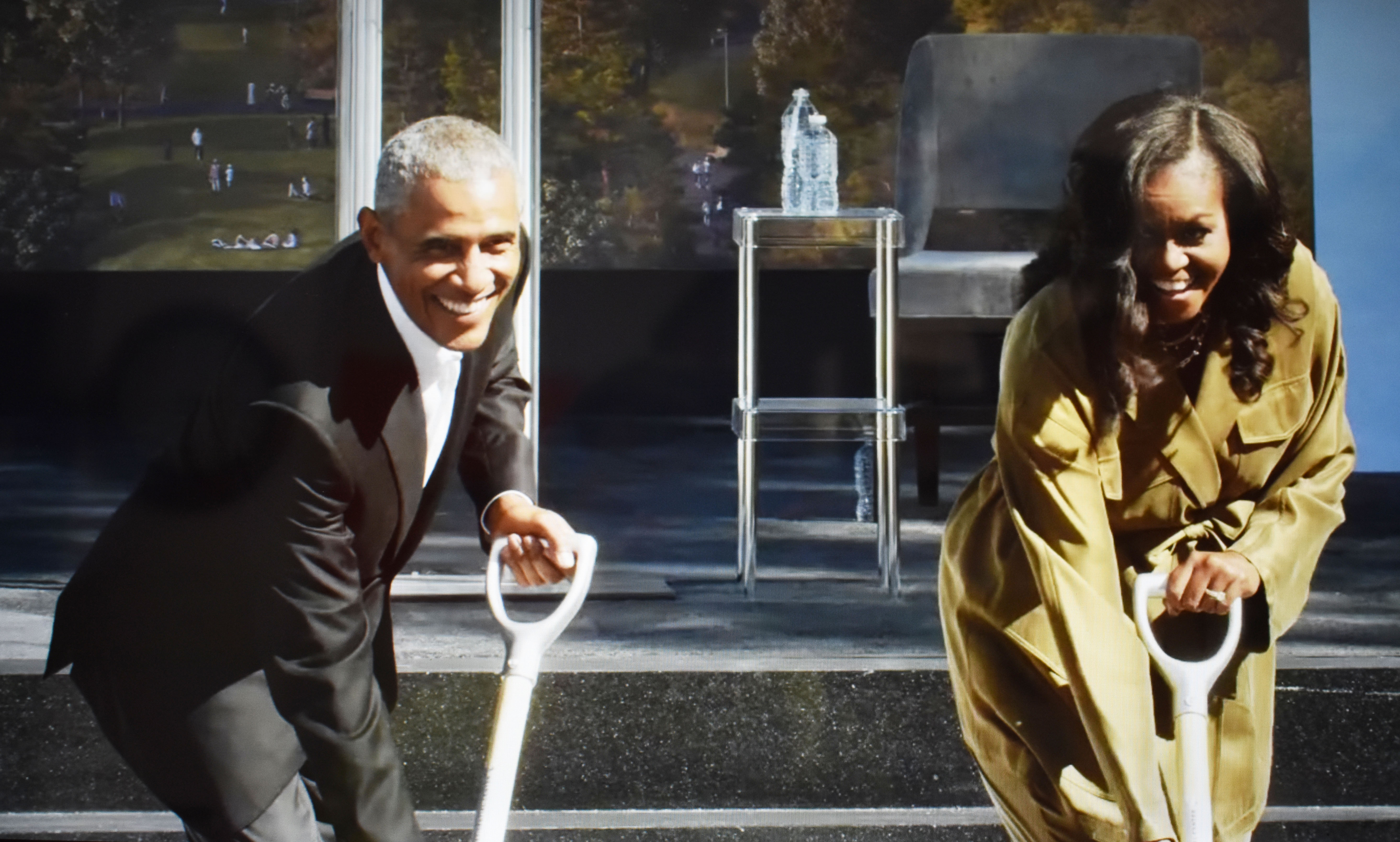 CISCO has been working with the Obama Foundation since 2016, when the project was touted to be built in Jackson Park, to encourage a diverse construction pipeline prior to and beyond the presidential center.
"CISCO was perfectly positioned to join the Foundation's team as our rich history of working with south- and west-side schools, churches and other organizations, is well documented," said CISCO Executive Director Dan Allen.












IBEW Local 701 Cuts The Ribbon on New Wellness Center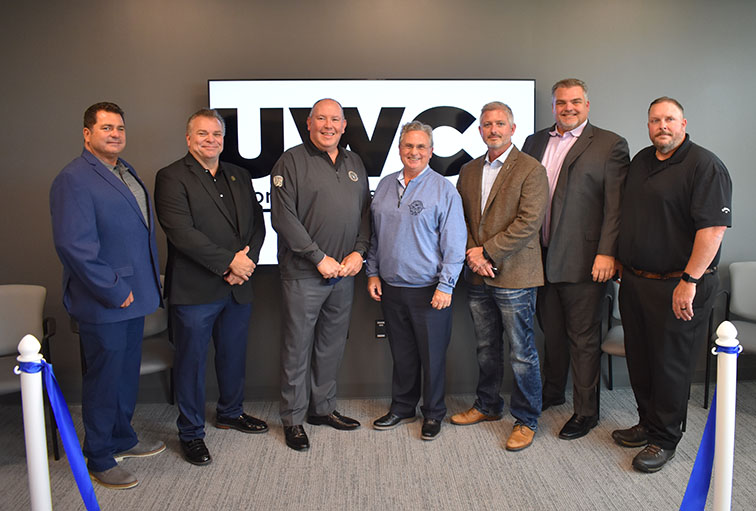 IBEW Local 701 in Warrenville opened the second Wellness Center in the Chicago area yesterday.
Formed by a unified group of local trade unions partnering together with Cerner Health to provide better health services for our membership, the Union Wellness Centers (UWC) are exclusive to the members and the families of SMART Local 265, Plumbers Local 130, Iron Workers Local 63, Riggers Local 136, Cement Masons Local 502 and Electricians Locals 701 and 176.
The Wellness Center was the idea of Plumbers Local 130 with the initial Center opening in Lemont two years ago. Five more centers are scheduled to open in the weeks and months ahead.
Frank Furco, 701 Business Manager/Financial Secretary, opened the festivities by thanking Jim Coyne. "He cut the trail and the rest of us jumped on and we appreciate his foresight."
Coyne added, "This was a true team effort. We've checked our egos at the door for the betterment of the people who elected us to be their leaders."
The Centers will offer members services such as preventive care, chronic condition management, physical therapy, virtual care services, health education, and risk awareness.
CISCO/St. Paul Construction Expo Shines a Light on Career Opportunities

The 7th Annual Construction Expo once again lived up to its tradition of several building trades and contractors providing both information and hands-on demonstrations to make men and women aware of the opportunities of a career in the building trades.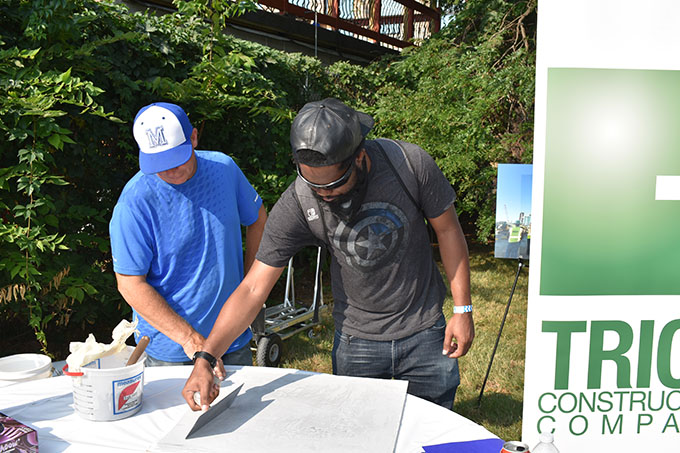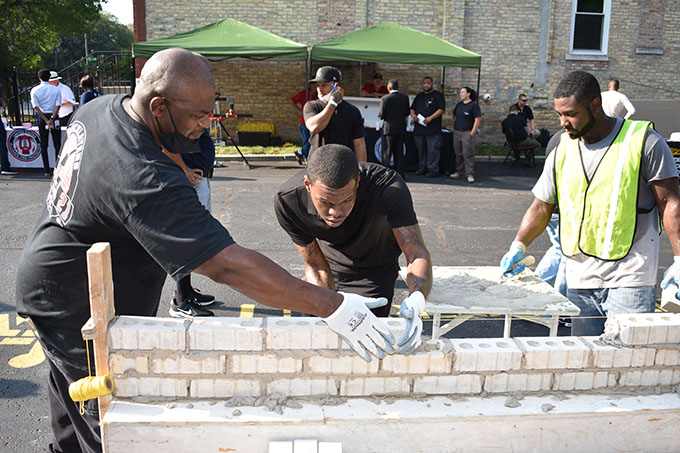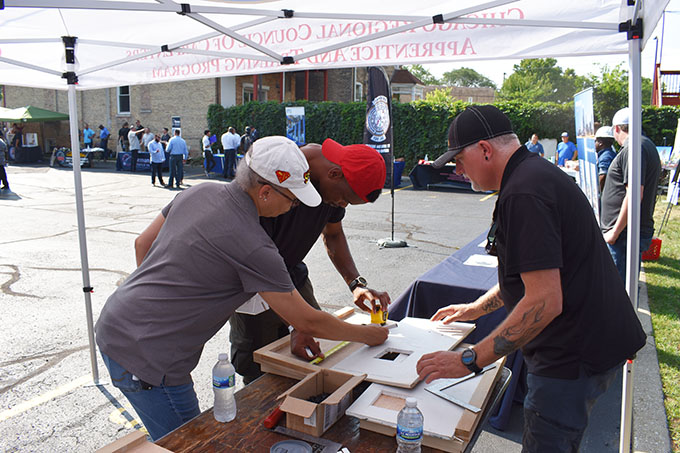 As Guest Speaker U.S. Congressman Danny Davis (pictured at right) described in a poem, St. Paul, CISCO, and other groups that focus on promoting union apprenticeship programs to young adults are not the "wreckers of buildings and communities, but rather the builders of communities."
Davis, CISCO Executive Director Dan Allen and Keynote Speaker Tim Drea, (pictured below) President of the Illinois AFL-CIO all spoke about the efforts that have been ongoing for decades to bring about a diverse union workforce that not only can transform neighborhoods, but can transform the lives of the individuals who pursue careers in the union construction industry.
To view more photos, click here.