CISCO Partners with Chicago Police and Fire Departments for Union Trades Fair
Oct. 24, 2022
CHICAGO – When Chicago Police office Veronica Meraz received an invitation from CISCO to attend its inaugural July 22 Hands-On Trades Fair, held at the Chicago-based IBEW Local 134, she assumed it would have an impact on the young adults she brought along – but didn't realize the impact it would have on HER.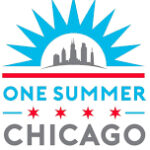 After seeing hundreds of people having conversations with Union representatives regarding how to apply for a Union construction apprenticeship program, Meraz said she was, "blown away."
"It was an amazing opportunity to see alternatives to office jobs or corporate jobs – which are not for everyone. Some people are just better with their hands," she explained.
The young adults Meraz brought with her were participants of One Summer Chicago, a 6-week summer program that allows Chicago individuals, aged 14-26, to have employment and internship opportunities with government institutions, community-based organizations and companies – all while getting paid.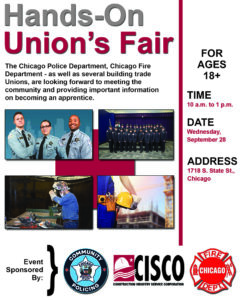 Through the program, young adults who choose to work with the Chicago Police Department shadow officers at the city's various 22 police districts, learning the work environment and interacting with the community. At the police department, Meraz is a Domestic Violence Liaison Officer and Senior Liaison.
Even though the CISCO-sponsored Trades Fair was held July 22 – and nearing the end of One Summer Chicago program, Meraz made sure to have free time available for the youth working the program at District 1 – Central Police Department to attend. Because the young adults she brought were either 16- or 17-years old, and still trying to figure out what they want to do, Meraz used the Trades Fair to open their eyes to alternative career options.
"They were vary curious and asked questions. I wanted them to understand they don't need a 4-year degree and college debt just to have a successful career. If they are more into having a hands-on job and working outside, then a job in the trades might be something for them," Meraz added.
She was so impressed with the turnout at the July 22 Hands-On Trades Fair and the impact it had on herself and the young adults she brought with, she decided to partner with CISCO, the Chicago Fire Department and the Chicago Police Department, to have a Union Trades Fair Sept. 28 at Chicago's District 1 – Central Police Department.
During the event, Meraz accompanied three Hispanic men as they toured various Union trades booths and interpreted from English to Spanish for them. The meeting proved successful as one of the men reached out to Meraz shortly after the Trades Fair with additional questions. "I connected him with the right people for further information. I'm making sure I don't lose touch with him." For this reason, she is committed to having another Trades Fair next year. "This is definitely not going to be a one-time deal," she added.
Meraz understands the Chicago Fire and Police Departments are not construction trades, but she teaches the youth she mentors to consider ALL Union careers a Brotherhood/Sisterhood. CISCO Executive Director Dan Allen agrees with her.
"Helping to recruit local firefighters and police officers to keep communities safe is the mission of Unions and signatory contractors," Allen explained.
An example of this is Chicago's Department of Family and Support Services (DFSS) goal in supporting career-oriented opportunities to help youth develop transferable skills to increase employability through job readiness training. It also provides them with guidance, training and supervision.
"The police have always worked with young people to help in finding them career opportunities. CISCO looks forward to future partnerships with both the police and fire departments as we all work together to find young people careers in the Union construction industry," Allen said.
Meraz is already looking forward to CISCO'S 2023 Hands-On Trades Fair. If possible, she would like to see it occur in early July, shortly after the start of the city's One Summer Chicago program. That way, she could get more young adults to attend from all the city's 22 police districts.
"Most of the young adults in the One Summer Chicago program don't know what a job or trades fair is, and haven't gone to one," Meraz said. "What I witnessed at the CISCO Hands-On Trades Fair was everything I was hoping it would be."