CISCO Annual Meeting Touches on Theme of Collaboration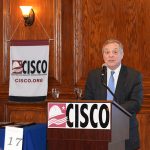 With U.S. Senator Dick Durbin (D-IL) making another surprise visit, more than 260 members and guests heard a message of collaboration – construction industry leaders and elected officials will continue, both locally and nationally, "to protect workers, and provide developers and end users with the world class construction that they can rely on."
Executive Director Dan Allen, in explaining CISCO's decades-long effort to recruit and retain a diverse skilled workforce, quoted President Harry S. Truman – "It is amazing what you can accomplish, if you don't care who gets the credit."
Allen, said this mantra enables CISCO to develop numerous partnerships across many organizational lines that include churches, educational entities, elected officials and other groups with union contractors associations and the union building trades.
CISCO Pride in Construction Awards highlighted the program during the 90-minute event. In addition to the photos below, click here for more pictures.
Below from top to bottom are: 1) The BEAR Construction contingent that accepted the award for top Rehabilitation project for the Old Chicago Post Office; 2) Paula Steiner won the Educator of the Year (posing with Johnetta Ryan and Dan Allen); 3) Mayor Jim Sexton of Evergreen Park accepted the Public Body of the Year for his town (with CISCO's outgoing Board President Maurice King); and 4) Labor Advocate of the Year Ron Ward of the Illinois Department of Labor (posing with Maurice King and IDOL Director Mike Kleinik).

Each year, near the end of January, CISCO holds an Annual Meeting to elect or retain board members, board officers and approve its annual budget. The meeting is highlighted by a keynote speaker, and its Pride in Construction Awards are presented to winners in select construction categories, as well as to individuals who have demonstrated exemplary leadership in the areas of education, labor conciliation and local government. More than 200 guests regularly attend the breakfast meeting.