CISCO Annual Meeting Rescheduled For March 11, 2022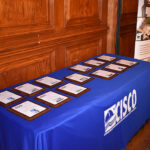 CISCO's Annual Meeting has been rescheduled and will be held on Friday, March 11, 2022. As in past years, an hour of Breakfast and Networking begins at 8:00 a.m. with the formal program beginning at 9:00 a.m.
The event will also return to a familiar venue – Maggiano's Little Italy restaurant in Schaumburg, 1901 E. Woodfield Road. Invitations will be sent out in mid-January, so members should watch their mailboxes, email boxes, social media and other outlets for the official notice.
The event will feature the presentation of CISCO's Pride in Construction Awards – now in its 17th year. The winners of the Project of the Year Awards appear in the left column of the Home Page.
In addition to the Project of the Year Awards, two individuals and one entity are recognized as Educator of the Year, Public Body of the Year and Labor Advocate of the Year.
The Board approved John Daniels & Eric Malone, Teachers at Stagg High School as Co-Educators of the Year. The Public Body of the Year is DuPage County, in part, for enacting a Responsible Bidder Ordinance. The Labor Advocate of the Year, is State Comptroller Susana Mendoza.
NOTE: Currently Cook County requires that in all dining situations, proof of vaccination is required in order to enter the restaurant or banquet facility. CISCO will monitor this regulation and keep you informed of any change in that policy.
Each year, near the end of January, CISCO holds an Annual Meeting to elect or retain board members, board officers and approve its annual budget. The meeting is highlighted by a keynote speaker, and its Pride in Construction Awards are presented to winners in select construction categories, as well as to individuals who have demonstrated exemplary leadership in the areas of education, labor conciliation and local government. More than 200 guests regularly attend the breakfast meeting.