CISCO Accepting Applications for Annual Pride in Construction Award Program
Sept. 14, 2023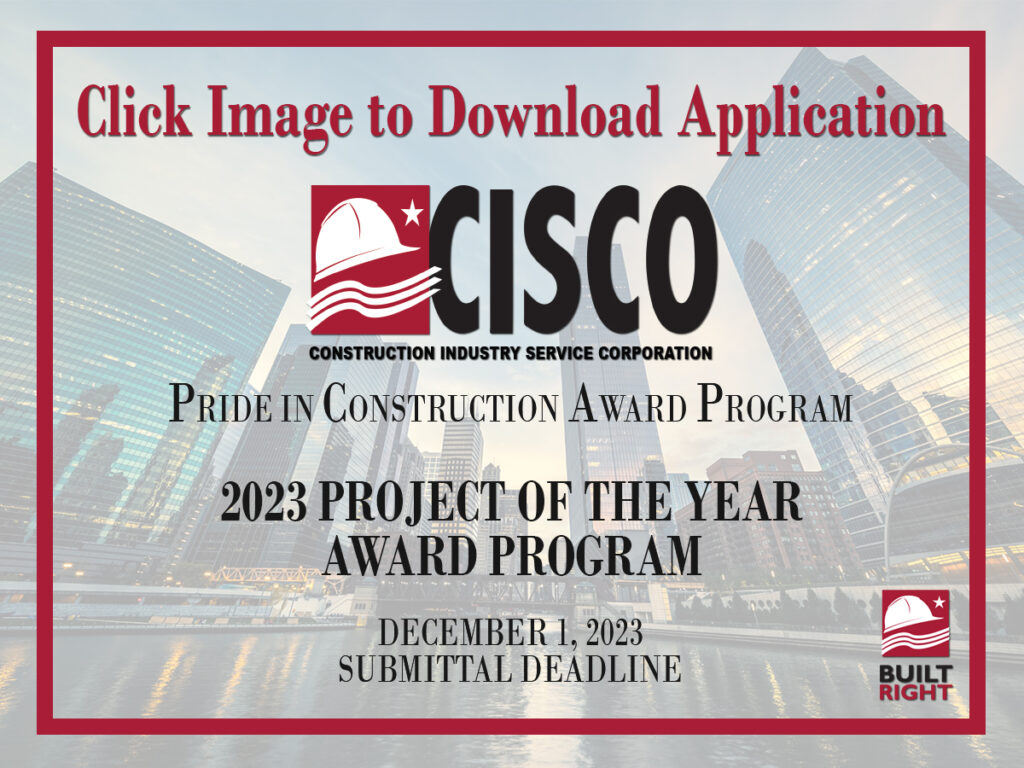 BURR RIDGE – If you think you've got one of the best construction projects in CISCO's 6-county area, including Cook, DuPage, Kane, Kendall, Lake and McHenry – prove it with a submission to CISCO's Annual Pride in Construction Award Program. Applications are being accepted through Dec. 1, 2023, from projects competed during May 2022 through December 2023.
CISCO's Award Program gives general contractors, owners, engineers and architects a chance to submit projects in six (6) different categories for recognition as that categories' Project of the Year. (See 2022 winners here). Categories include:
– New Construction – Chicago (Above $20M)
– New Construction – Suburbs (Above $20M)
– New Construction – Chicago or Suburbs (Below $20M)
– Rehabilitation
– Residential
– Infrastructure
Eligibility and Criteria
Each candidate's project needs to demonstrate a dedication to:

– Quality of Construction
– Design
– Impact to Community
– Safety Record
Deadline
Participants must complete the application form and submit it directly to CISCO. CISCO is not responsible for the return of any materials submitted. Deadline for submitting applications is 5 p.m. Friday, Dec. 1, 2023. For additional information, contact CISCO'S Director of Communications and Public Affairs Director Jennifer Rice at 630-472-9411. Applications can be sent via email at: jennifer@cisco.org, or via mail to: CISCO, 999 McClintock Dr., STE 100, Burr Ridge IL 60527.
Notification
Submittals will be reviewed in December 2023 during CISCO's Board Meeting, and winners will be selected at that time. Winners will be notified the week of Dec. 11, 2023. Due to the volume of submissions CISCO receives, only winners will be notified. Winning entries will be posted on CISCO's website – cisco.org, on Dec. 15, 2023.
Awards will be presented at CISCO's Annual Meeting in 2024. Winning entries and their team will be invited for recognition and celebration. An exact date for the meeting has yet to be determined – but will be held in January 2024.